DePauw Theatre Presents Brecht's Mother Courage and Her Children as Part of ArtsFest
November 3, 2003
November 3, 2003, Greencastle, Ind. - DePauw Theatre opens its second production of the 2003-2004 season, Bertholt Brecht's Mother Courage and Her Children, during the final weekend of the DePauw ArtsFest. The production runs November 7, 8, 9, 14 and 15 at the Performing Arts Center's Moore Theatre. Considered one of Brecht's finest works and one of the great plays of our time, Mother Courage and Her Children is a powerful anti-war epic. Friday and Saturday performances are at 8 p.m. and Sunday at 1 p.m. Tickets can be purchased or reserved at the DePauw Performing Arts Center Box Office.
DePauw Theatre Director Steve Timm (seen below right) is directing the play and has chosen an adaptation by David Hare. In the production, a lone woman, Anna Fierling, tries to achieve the irreconcilable aims of money-making and keeping her family alive during the nightmare of the Thirty Years War. At the end of a century ravaged by war on an unprecedented scale, Brecht's masterpiece of silence and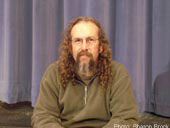 survival has only grown in stature since its premier in 1941. As David Hare wrote in his introduction, "In Mother Courage, two of the principal characters are abstract nouns... Time and War. In their turn, they are attended by a flotilla of minor characters called Grief, Waste, Money, Religion, and so on. One of the main jobs of a director approaching the play is to find a way of embodying Time and War, so he can show what they do to Mother Courage herself."
The play contains adult language. Tickets are only $6 for adults and $3 for students and can be purchased or reserved at the DePauw University Performing Arts Center box office at (765) 658-4827 or by sending an e-mail here. For more information on DePauw Theatre productions, click here or contact Steve Timm at (765) 658-4494.
Back