WFYI to Provide Local Telecast of Nationally-Broadcast Monon Bell
November 5, 2003
Game to be Nationally Televised; List of Alumni Parties; Pre-Order Your 2003 Monon Bell DVD

November 5, 2003, Greencastle, Ind. - The 110th battle for the Monon Bell -- between DePauw University and Wabash College and set for November 15 at DePauw's Blackstock Stadium -- will be televised live in central Indiana on PBS affiliate WFYI/Channel 20. The telecast will be produced and carried nationally by HDNet, America's leading all high definition national television network. Tickets for the game sold out in a record 48 hours.

[DOWNLOAD VIDEO: "See The Ballad of the Monon Bell" 9364KB]

[DOWNLOAD AUDIO: "Hear The Ballad of the Monon Bell" 2900KB]
"We have an unprecedented level of interest in this game, and frantic students, alumni and football fans continue to call in search of tickets, which of course were all accounted for two weeks ago," says Ken Owen '82, director of media relations for DePauw. "The agreement reached today ensures that those fans who live in central Indiana but can't access the necessary high definition television equipment will be able to see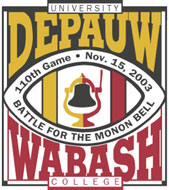 the game on TV. We've enjoyed a long relationship with WFYIand are thrilled that we're able to continue it."
This year's battle for the bell will mark the final contest for Nick Mourouzis, DePauw's all-time winningest football coach, who will retire at the end of the season (read more here). Coming in to this year's game, the all-time series is tied at 50-50-9. The 110th meeting between the two rivals kicks off at 1:05 p.m. on November 15.
Again this year, DePauw and Wabash are working together to stage alumni parties across the nation where graduates and friends of the colleges can gather to catch up with friends and cheer on their favorite team. Plans are currently in the works for alumni telecast parties to be held in 40 cities and more sites will be added as game day approaches. For a list of sites and hosts, click here.
For the third consecutive year, the Monon Bell Classic is being offered to fans of DePauw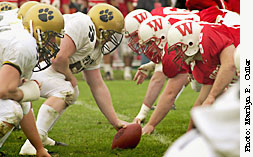 University and Wabash College on DVD. DePauw and Wabash will jointly produce this year's DVD, which is available at a special "early bird discount." Through November 15, fans can pre-order the 2003 DVD at a special price of $12 (copies of the disc will be $15 after that date). You can pre-order your disc by clicking here(discs of the 2001 and 2002 Bell games are also available at $10 each). Again this year, the DVD will offer a collection of "Monon Memories," clips that highlight the history of the Bell battle. The film footage dates back to 1940.
For more information on the DePauw football program, please visit the team's official site by clicking here. More details on the Monon Bell rivalry are available here.
Back