DePauw's EDUCAUSE Award & Role in Interactive Technology Noted in DyKnow Announcement
November 6, 2003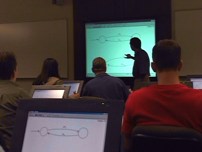 November 6, 2003, Greencastle, Ind. - "DyKnow has a proven track record and is widely used at DePauw University in Greencastle, Indiana, which recently won an EDUCAUSE award for leadership and innovative use of technology in higher education," notes a news release from DyKnow, an Indianapolis-based software developer, which is demonstrating its technology at this week's EDUCAUSE conference in Anaheim, California. Earlier today at the conference, Dennis Trinkle, director of 361° initiatives, coordinator of information services and technology, and Tenzer University Professor in Instructional Technology at DePauw, accepted the EDUCAUSE Award for Systemic Progress in Teaching and Learning on behalf of the University. The Award has never before been presented to a university or college that is not a doctoral/research institution (read more here).
"In a 2002/2003 study on the effectiveness of the DyKnow system at DePauw, 93 percent of students who used DyKnow said the program provided them with a better set of class notes than they could produce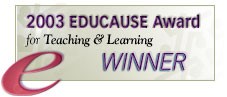 by hand. Nearly 90 percent of DePauw students who used DyKnow said their understanding of the course material was enhanced," the company's announcement states. "DyKnow's collaborative educational software was also recently purchased by the University of Southern California's Distance Education Network (DEN). The university will integrate the flexible DyKnow software into DEN's own course portal systems." Access the complete text by clicking here.
DyKnow's interactive learning system extends work originated by Dave Berque, associate professor of computer science at DePauw University.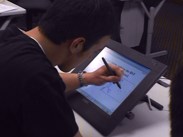 DyKnow puts the power of technology into the hands of both teachers and students by connecting a teacher's electronic whiteboard or PC to student computers. This electronic note delivery system enables real-time communication between teachers and students through pen-enabled systems—both in a traditional classroom setting and in distance learning environments. Read more in this previous story.
Back