Music of Steve Reich Featured in Percussion Ensemble Concert Thursday
November 7, 2003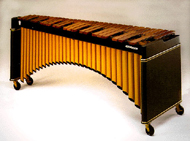 November 7, 2003, Greencastle, Ind. - The DePauw University Percussion Ensemble will present a concert featuring the works of the American minimalist composer Steve Reich on Thursday, November 13, at 7:30 p.m. in Thompson Recital Hall of the Performing Arts Center. Featured on the program will be some of Reich' s most well-known percussion works, including Clapping Music, Music for Pieces of Wood, Nagoya Marimbas, and Music for Mallet Instruments, Voices, and Organ. Reich' s compositions for percussion have become an essential part of the percussion repertoire.
Steve Reich is one of the most well-known and successful American composers today. His style of "process music" has captured the imaginations of music lovers around the world, and has often provided a bridge between classical and popular musical styles. His music has been greatly influenced by the rhythms and structures of African drumming as well as by the harmonies of
Indonesian gamelan and American jazz and pop music. Reich has received many prizes, awards and commissions from organizations and musicians throughout the world. His music, which includes chamber music, orchestral works, electronic music, a recent music theater video piece and a digital documentary opera, has often been ground-breaking in its concept and style.
The concert is free and open to the public. For more information on upcoming School of Music events, call (765) 658-4379 or click here.
Back