Photos of DePauw Theatre Production Featured in New Textbook
November 9, 2003
November 9, 2003, Greencastle, Ind. - Susan Anthony, assistant professor of communication arts and sciences at DePauw, took notice of a publisher's recent call for photos of theatre productions. She sent pictures taken at The Vampire, a DePauw Theatre melodrama that she directed last winter. As a result, the photos were printed in the sixth edition of The Enjoyment of Theatre, a textbook utilized at many institutions as an Introduction to Theatre course text. The photographs are featured prominently on two pages of the book, which was written by Kenneth M. Cameron and Patti P. Gillespie.
"As far as I know, DePauw Theatre productions have not been featured in the text before this time," said Anthony. "I chose The Vampire pictures because they were beautiful, thanks to costume designer Gigi Fenlon, set designer Amy Baumgartner and photographer Marilyn Culler." Anthony also selected the photos because they represented a melodrama, a production form rarely performed at the University level. DePauw students featured in the full-color pictures include Cody Cranch (as the Vampire) and Josie Lowry (as the Spirit of the Air). This edition of the book was published by Allyn and Bacon and released in 2003.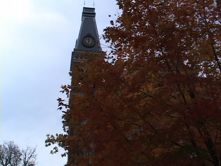 Others who ultimately contributed to the look of the production include the former technical director of the Performing Arts Center, Byron Craft; director of DePauw Theatre, Steve Timm; the current technical director of the Performing Arts Center, Duane Skoog; DePauw student John Parker; professor emeritus of communication arts and sciences Larry Sutton; and scene painting techniques guest artist, Chib Gratz.
"I'm very pleased that the pictures were included in the text, particularly the full page entitled 'Romantic melodrama on the modern stage,' because those pictures highlight our attention to historical detail. In this production, we explored Romantic acting styles, and experimented with non-Realistic scenery and lighting (painted drops, thunder sheets, footlights) and so tried to some degree to replicate an early-nineteenth-century theatrical experience," said Anthony.
To see a listing of upcoming DePauw Theatre productions as well as previous plays, click here or call (765) 658-4827.
Back