You're Invited to a Reception for "Coach Nick" Saturday
November 9, 2003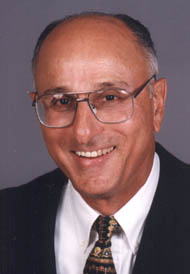 November 9, 2003, Greencastle, Ind. - Students, faculty, alumni and friends of DePauw University are invited to join in a celebration of a historic coach and beloved member of the faculty Saturday evening, as a post-game reception is held to honor Nick Mourouzis. DePauw's all-time winningest football coach is retiring after Saturday's sold-out Monon Bell clash with Wabash. The reception, which will begin at 7 p.m. in the indoor track and tennis center behind Blackstock Stadium, will allow friends, fans and former players to share memories with "Coach Nick" and his family and thank him for his 23 years of service to DePauw. The event is free and open to all. (photo by Marilyn E. Culler)
Speakers will include former DePauw players and the legendary John Pont, who coached Mourouzis at Miami (Ohio) and later hired him as an assistant coach at Indiana University. A memory book will be available for all visitors to sign and write messages to Coach Mourouzis and his family, refreshments will be served, and all visitors will receive a commemorative flier.
Nick Mourouzis is the winningest coach in DePauw football history in terms of total victories with a 138-86-4 record with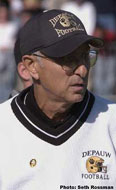 the Tigers. He entered the season in a tie for 10th among all active NCAA Division III coaches in wins, second among active Indiana collegiate coaches and fourth all-time in the state's history. Mourouzis' 23-year tenure is also the longest in school history ahead of Tom Mont's 18-year stint from 1959-76 and he is just the eighth DePauw coach since 1930.
Read more about "Coach Nick's" retirement by clicking here.
Learn more about Saturday's 110th battle for the Bell here.
Back