Eric Schlosser, at DePauw Tuesday, Appears on C-SPAN2
November 10, 2003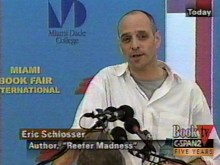 November 10, 2003, Greencastle, Ind. -
[DOWNLOAD VIDEO: "Schlosser on Starbucks" 1900KB] "I have mixed feelings about Starbucks," best-selling author Eric Schlosser told the Miami Book Fair International Sunday, 48 hours before his Timothy and Sharon Ubben Lecture at DePauw University. In his presentation, which was broadcast on C-SPAN2, Schlosser continued, "They have pursued a very aggressive expansion campaign in which I believe they target independent coffee houses and have driven so many out of business. I like a world that is diverse and has lots of different regional restaurants and regional companies," he said to applause from the audience.
"So I think that having a Starbucks in every town is just fine," he continued. "Having twelve may be too many. What they do that I'll give them credit for is I think they've had a much more progressive policy toward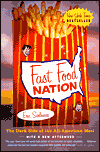 their workers than the other fast food chains have. But I think these brands are great until they reach a certain size and power, and then they become irritating and destructive."
Eric Schlosser's speech, "Fast Food Nation," begins at 7:30 p.m. Tuesday in Kresge Auditorium of the Performing Arts Center and is free and open to the public. Learn more about Schlosser and the event by clicking here.
The Ubben Lecture Series has brought distinguished individuals to
the DePauw University campus since 1986, including 2004 presidential candidate and retired General Wesley Clark, former British Prime Ministers Margaret Thatcher and John Major, former Israeli Prime Minister Shimon Peres, General Colin Powell, Ross Perot, Spike Lee, Mike Krzyzewski, Harry Belafonte and ice cream entrepreneurs Ben & Jerry.
To view a complete list of Ubben Lecturers, which includes links to video clips and news stories, click here.
Back