DePauw Students More Engaged Than Those at Peer Institutions and National Average, Survey Finds
November 10, 2003
US News: DePauw in Nation's Top Tier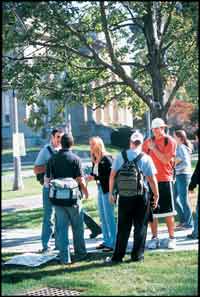 November 10, 2003, Greencastle, Ind. - DePauw University students spend more time studying, engaging in class discussions and collaborative projects with classmates, and volunteering in their community than students at peer institutions and the national average at all colleges and universities, according to the 2003 National Survey of Student Engagement (NSSE). Entitled "Converting Data Into Action: Expanding the Boundaries of Institutional Improvement," gives schools a gauge of how well students are learning and what they put into and get out of their undergraduate experience. The NSSE finds that DePauw continues to outpace peer institutions and national averages in virtually every category.
The survey measures five benchmarks: level of academic challenge, active and collaborative learning, student-faculty interaction, enriching educational experiences,
and supportive campus environment. The analysis is based on approximately 185,000 randomly-selected first-year and senior students from 649 participating four-year colleges and universities across the nation, including DePauw.
"The NSSE is an important, scientifically valid measuring stick," says DePauw President Robert G. Bottoms. "DePauw has endeavored in recent years to strengthen its faculty, enrich the first-year experience and make the community an economically, geographically and racially diverse place in which to learn and live. The findings of the NSSE confirm that our efforts are having a very positive impact, and show that DePauw is indeed climbing within the ranks of America's finest colleges."
In the area of "level of academic challenge" (which considers items such as preparing for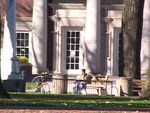 class, assignments, papers that are written for classes, and a campus environment that emphasizes academic excellence), DePauw's scores of 64.6 for first-year students and 64.4 for seniors greatly exceed the average of America's baccalaureate-liberal arts colleges (57.9 and 61.1). The gap between DePauw and the national average of all colleges and universities (53.9 and 57.3) is even greater, a trend that carries through the other four categories:
Active and Collaborative Learning First-Year Students Seniors DePauw 48.1 54.0 Bac-LA 44.2 51.8 National 41.8 50.1 Student-Faculty Interactions First-Year Students Seniors DePauw 45.9 51.3 Bac-LA 42.4 51.5 National 37.2 44.2 Enriching Educational Experiences First-Year Students Seniors DePauw 68.7 64.8 Bac-LA 65.7 57.3 National 57.7 49.1 Supportive Campus Environment First-Year Students Seniors DePauw 67.1 60.2 Bac-LA 65.6 62.6 National 61.8 58.8
Many studies show that student engagement is a strong predictor of how well a student learns. "Engagement is a critical factor in the educational process because the more time and energy students devote to desired activities, the more likely they are to develop the habits of the mind that are key to success after college, including participating in civic affairs," says George Kuh, director of NSSE Director and professor of higher education at Indiana University.
The 2003 report also finds that nationally:
Intercollegiate athletes are generally as engaged in learning activities as other students
Men are generally less engaged than women, especially in the areas of academic challenge and enriching educational experiences
83% of students regularly use the Internet to obtain resources for their classes; 80% say technology is required to complete course assignments
"NSSE is one of the most powerful tools available to stimulate and guide intellectually powerful conversations to focus us on what needs to be changed and how," says John Gardner, executive director of The Policy Center on the First Year of College. Kuh adds, "prospective students and their parents can
better determine a school's quality and fit by asking the kinds of questions NSSE asks: How many students work with faculty members on research and other activities? How much reading and writing is required? How often do students interact with other students who are from different backgrounds and cultures? How good is the academic advising?"
In recent years, DePauw's retention rate -- that is, the percentage of first-year students who return for their sophomore year -- has climbed from 83.8% in 1998 to the current 93.3%. "That underscores the survey's finding that students enjoy learning and living at DePauw. The addition of sixty full-time faculty members over the past five years has clearly increased opportunities for collaboration and interaction in our classrooms and laboratories, which the NSSE also notes. This external barometer is further demonstration of DePauw's increasing excellence," President Bottoms said.
The NSSE 2003 report is co-sponsored by The Carnegie Foundation for the Advancement of Teaching and the Pew Forum on Undergraduate Learning. NSSE is supported by grants to Indiana University from Lumina Foundation for Education and Center of Inquiry in the Liberal Arts at Wabash College.
Back