Public Safety Director Doug Cox Quoted in Indianapolis Star
November 11, 2003
November 11, 2003, Greencastle, Ind. - Ruth Holladay's column in today's Indianapolis Star, which examines a fatal weekend shooting on the Ball State University campus, includes comments from DePauw's director of public safety. Holladay notes the "troubling facts" that remain after a rookie Ball State campus officer, who had not yet attended the Indiana Law Enforcement Academy, shot and killed a student near the Muncie campus early Saturday morning.
She writes, "Doug Cox is director of campus security at DePauw University in Greencastle. Officers on that campus attend the law enforcement academy before they are sent out in field situations. Also, DePauw police are schooled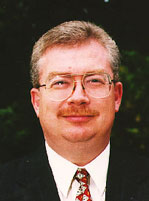 in a 'use of force continuum,' he says. 'When you are approaching someone who is disorderly, the first use would not be drawing a weapon. It would be verbal. Next would be some sort of physical restraint. Next is use of pepper spray or Mace.' Ball State incorporates that training into its field study... So what went wrong?"
You can read the column, "Preliminary facts make it hard to fathom Ball State shooting," in its entirety by clicking here.
Back