"Social Strategies: Redefining Social Realism" at Peeler Art Center
November 11, 2003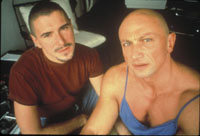 November 11, 2003, Greencastle, Ind. - Top American and international artists' work, very rarely seen in Indiana, will be featured in an exhibition opening November 15 at the Richard E. Peeler Art Center at DePauw University. The artists include several members of the controversial "Young British art" group as well as many whose work has been featured in important national and international exhibitions of contemporary art. The thought-provoking work of these artists offer a compelling look at the renewed forms of social praxis in a show titled, "Social Strategies: Redefining Social Realism." The exhibit, which continues through February 15, 2004, is free and open to the public. (at top: Nan Goldin, "Gilles and Gotscho at home", Paris, 1992, cibachrome; courtesy of Matthew Marks Gallery, New York)
"Social Strategies: Redefining Social Realism" introduces tendencies in contemporary art that redefine social realism by either reconsidering the art of propaganda as a force in forming social consciousness; simulating and/or
documenting prevailing social or political conditions; or projecting new social or spiritual orders. This important exhibition examines the ways in which contemporary artists have used art as a platform to air their views, personal politics, and visionary alternatives. In addition, it seeks to demonstrate that as a utopian or transcendental model, art engages the viewer with the intention of social change through self-reflection and personal exploration. (at right: Tracy Emin, "I Can Never Leave You", 2001, blue neon; courtesy of the Artist and Lehman Maupin Gallery, New York)
Artists included in "Social Strategies" are: Edgar Arceneaux, Richard Billingham, Jeremy Blake, Tracy Emin, Rainer Ganahl, Gilbert & George, Nan Goldin, Felix Gonzàlez-Torres, Jenny Holzer, Mary Kelly, Barbara Kruger, Wolfgang Laib, Ken Lum, Julie Mehretu, Glexis Novoa, Paul Pfeiffer, Jack Pierson, Neo Rauch, Thomas Ruff, Paul Shambroom, Kim Sooja,
Beat Streuli, Sam Taylor-Wood and Sue Williams. (NOTE: This exhibition contains imagery that is difficult, may be upsetting to some, and may not be appropriate for children. Viewer discretion is advised.)
"Social Strategies: Redefining Social Realism" was curated by Klaus Ottman and Pamela Auchincloss and is being toured under the auspices of Pamela Auchincloss/Arts Management, New York. An opening reception for the exhibition is scheduled for Friday November 21, from 5 to 7 p.m., at the Peeler Art Center. In addition, a series of "Art for Lunch" gallery talks are scheduled for various times throughout the run of the show. Please contact the Richard E. Peeler Art Center for more information at (765) 658-6556. (at left: Ruff Thomas, "Plakat IV (Housing Authority)", 1997 c-print mounted on plexiglass; courtesy of Zwirner & Wirth, New York)
The galleries at the Richard E. Peeler Art Center are open Monday through Friday 9 a.m. to 4 p.m.; Saturday 10 a.m.- 4 p.m.; and Sunday 1-5 p.m.
Back