Retiring Coach Nick Mourouzis to Deliver 2004 Commencement Address
November 11, 2003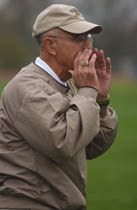 November 11, 2003, Greencastle, Ind. - Nick Mourouzis, DePauw's all-time winningest football coach who is retiring at the end of the current season, will deliver one final pep talk before stepping down. DePauw seniors have selected "Coach Nick" to deliver the address to graduates at DePauw's 165th annual Commencement, Sunday, May 23, 2004, at 1 p.m. on East College lawn (weather permitting). Mourouzis, DePauw University head football coach and professor of kinesiology, is in his 23rd season at University and is the winningest coach in DePauw football history in terms of total victories with 138. Entering the season with 133 wins, Mourouzis ranked in a tie for 10th among all active NCAA Division III coaches, second among active Indiana collegiate coaches and fourth all-time in the state's history.
The commencement speaker is selected by a committee composed largely of DePauw seniors. This marks the first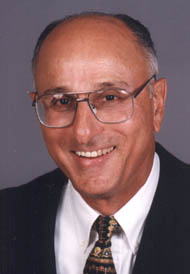 time a faculty member has been chosen to deliver the commencement address since 1997, when Professor Paul Kissinger did the honors.
"This is testimony to the impact Nick has had, and continues to have, on the DePauw community," said DePauw President Robert G. Bottoms. "His record shows him to be a winning coach, certainly. But it's Nick's character, compassion and commitment to young people and their development that make him so remarkable. I'm delighted that the students and faculty on our committee have made this selection."
Nick Mourouzis' tenure as head football coach is the longest in school history and he is just the eighth DePauw coach since 1930. Before coming to DePauw, Mourouzis was an assistant coach at Northwestern, Indiana, Ball State and Ohio Universities. He was named the Southern Collegiate Athletic Conference Coach of the Year in 2000
after leading the Tigers to a three-way share of the league title. Mourouzis was named the Indiana Collegiate Athletic Conference Coach of the Year in 1996 and 1990. In February 2001, Mourouzis earned the Distinguished American Award from the central Indiana chapter of the National Football Foundation for his lifetime commitment to football and for making significant contributions toward bettering amateur football in the United States. He was inducted into Miami's Cradle of Coaches earlier this year, joining legendary coaches such as Weeb Ewbank, Paul Brown, Ara Parseghian, Bill Mallory, Walter Alston and Woody Hayes.
"Coach Nick" is also the founder of Chi Alpha Sigma, the nation's first collegiate scholar-athlete honor society, which is represented at more than 60 colleges and universities in over 20 states.
"I've loved working with and guiding our football players, helping many players and young graduate assistants enter this rewarding profession and teaching and sharing ideas with my assistant coaches," Mourouzis said August 16, when he announced his plans to retire (read more
here). "I figure I've spent twice as much time with all these people than I ever did with my wife and children and now I feel it's time to spend more time with the ones who have been so supportive of me all these years."
The commencement committee is made up of students Liz Barnes, Meredith Douglas, Jack Meyer, Colin O'Flaherty, Anjoli Smith, Wendy Wippich, Osiris Lands, and Ben Marston; and faculty members Barbara Bean, Peter Graham and Kerry Pannell.
Back