Monon Bell Debate is Thursday Night at 7
November 11, 2003
November 11, 2003, Greencastle, Ind. - DePauw University's debate team, currently ranked fifth in the nation, will take on in-state rival Wabash College in the traditional Monon Bell Debate this Thursday, November 13, at 7 p.m. in the auditorium of the F.W. Olin Biological Sciences Building. The resolution for the debate is: "Single gender schools provide a better education." The Wabash team of Aaron Drake and Matt Symons will debate DePauw's J.J. Burns and Erich Taylor. The event is free and open to all.
Coming off outstanding performances in tournament competition at Purdue University, Ball State University, and Colorado College, DePauw's top team is now ranked 5th in the nation in parliamentary debate out of 477 teams (read more here). DePauw will debate the Little Giants of Wabash in a hybrid debate involving elements of parliamentary and audience debate. Unlike tournament competition, audience participation -- even polite heckling -- is actively encouraged in the Monon Bell Debate. DePauw and Wabash have participated in this debate for nearly 30 years.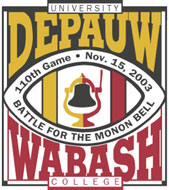 "This debate has been one of the more memorable experiences for debaters and audiences alike," notes DePauw's director of forensics and assistant professor of communication arts and sciences, Geoff Klinger '88. "In the past, the debate has enlivened passions, in one case even spilling over into a scuffle between the two sides during the debate. While we expect to avoid the same by tending to the rules of decorum with more vigor, this should be an intense struggle between two schools with a history of excellence in debate. Wabash always has a good showing, even in Greencastle, so it is critically important that our community supports our outstanding debaters. It promises to be an engaging and enjoyable evening."
The event is sponsored by the DePauw Debate Society and the department of communication arts and sciences, and a brief reception will follow.
Back