Noted World Music Group 'Panoramic' Performs Monday Night
November 14, 2003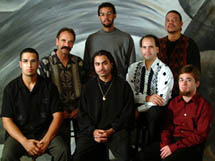 November 14, 2003, Greencastle, Ind. - On Monday, November 17, the jazz fusion/world music group Panoramic, featuring world-renowned steelpan (steel drum) virtuoso Liam Teague, will present classes and perform at an evening concert at the DePauw University School of Music. Panoramic takes a wide-angle view of music, combining contemporary calypso from Trinidad, Afro-Cuban and Brazilian beats, and Indian rhythms with original compositions and contemporary Latin jazz standards. The group pays tribute to its members' Caribbean heritage, while integrating their collective experiences in jazz, classical, and world genres.
Panoramic is a six-member ensemble which was formed by Teague and Robert Chappell, both of whom are members of the percussion/steelpan faculty in the Northern Illinois University. The members are Teague (steelpan, Orlando Cotto-congas and marimba), Chappell (marimba, piano, and tabla), Doug Stone (saxophones), Joshua Ramos (bass), and Phil Beale (drums). Teague, a native of Trinidad, has been hailed as the "Pagannini of the steelpan." He and Chappell have just released a compact disc, For Lack of Better Words.
On Monday from 11:45 a.m. to 12:50 p.m., members of Panoramic will work with the DePauw Jazz Ensemble on the Kresge Auditorium stage in the DePauw Performing Arts Center. At 3 p.m. in room 152 of the PAC, there will be a percussion/world music class featuring tabla, steel pan, and congas. At 7:30 p.m. in the PAC's Thompson Recital Hall, Panoramic will present a concert. All of these events are free and open to the public.
For more information about this or other School of Music events, call (765) 658-4379 or click here.
Back