Game Day Newspaper Coverage Includes Tribute to "Coach Nick" and Story on National Monon Bell Telecast
November 15, 2003
Read More About the Monon Bell
November 15, 2003, Greencastle, Ind. - "Ask Nick Mourouzis about some of his favorite DePauw football teams or memories from Monon Bell games, and he can tell story after story," writes Jeff Rabjohns in today's Indianapolis Star in one of two stories on today's big game. "When the conversation turns to him, he's a little less interested. 'I don't need all this attention,' he said earlier this week as he prepared for today's Monon Bell game against visiting Wabash that will end his 44-year coaching career. Those who have been around the DePauw football program Mourouzis has coached for 23 years jump right in."

[DOWNLOAD VIDEO: "See The Ballad of the Monon Bell" 9364KB]

[DOWNLOAD AUDIO: "Hear The Ballad of the Monon Bell" 2900KB] Rob Doyle, an Indianapolis attorney who quarterbacked "Coach Nick's" first team at DePauw, tells the Star, "The first thing that comes to my mind is that he's a high-quality person. He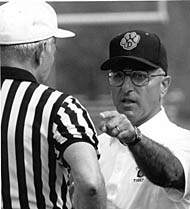 is the type of man you would want to send your son to play football for, and in today's sports world, sometimes there's too little of that left."
Rob Boras, a 1992 DePauw graduate who played four years for Mourouzis and is now the offensive coordinator at UNLV, adds, "The thing that stands out is his passion, his passion for life, his passion for football, his passion for the university. He's one of the most passionate, enthusiastic and positive persons I've ever been around."
DePauw University President Robert G. Bottoms offers, "Sometimes you look down our bench and see 130 men involved in our program, and what, 30 or 40 play on a Saturday. If you can keep the other 90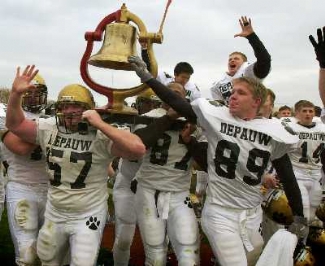 enjoying the sport, that's quite a compliment."
The story notes that Mourouzis retires as DePauw's all-time leader in victories, and that "a committee that included no athletes unanimously selected Mourouzis to give this year's commencement address." A member of Miami of Ohio's "Cradle of Coaches," the coach himself tells the newspaper, "I didn't want someone to say, 'When are you going to retire?' I've had my run. I've enjoyed every year, but the best thing to happen to me was coming to DePauw." You can access the article in its entirety by clicking here.
In his column in today's Star, John O'Neill previews today's national telecast of the battle for the Bell, noting that it will be carried by "HDNet, a high-definition network based in Denver and owned by Mark Cuban,

who went to Indiana University and now owns the Dallas Mavericks basketball team." It quotes HDNet producer Darrell Ewalt, "If you have an association with either of these schools, this game is part of the fabric of your life." Why the Monon Bell? Ewalt says, "we wanted to do a rivalry, and this is one of the most seriously contested in all of sport. It is a huge deal." The game can also be seen in central Indiana on PBS affiliate WFYI/Channel 20.
You'll find O'Neill's column by clicking here.
Back