Wabash Retains Monon Bell with 37-20 Victory
November 15, 2003
[Download Video: "2003 Monon Memory" - 4025kb]; Order a Monon Bell DVD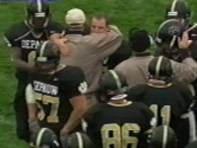 November 15, 2003, Greencastle, Ind. - Wabash College provided a spoiler to DePauw coach Nick Mourouzis' final game, racking up 407 yards of total offense to defeat the Tigers 37-20 in the 110th Monon Bell Classic at Blackstock Stadium. The game was played in misty, chilly conditions, with a temperature of 48 degrees, in front of a sellout crowd of 7,970 fans. A national television audience saw the game on HDNet.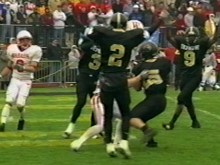 The game was scoreless with 9:28 to play in the first quarter when DePauw's David Blackburn intercepted a Russ Harbaugh pass at the Wabash 30.
[DOWNLOAD VIDEO: "DePauw's First Score" 671KB]Two plays later, DePauw jumped out to a 7-0 lead when Jackson Rust carried the ball into the end zone from 9 yards out and John Wallace's extra point attempt was good.
Wabash responded with two scoring drives to take a 14-7 lead in the second quarter.
[DOWNLOAD VIDEO: "The 60-Yard Dash" 1000KB]With 3:29 left before halftime, DePauw quarterback Ross Wiethoff rambled 60 yards for a touchdown. The extra point try was no good, however, and DePauw went into the intermission trailing 14-13.
The second half was dominated by the visitors from Crawfordsville, whose senior running back, Chris Morris, set a new Wabash all-time career rushing record (3,247) by gaining 102 yards on 19 carries. His teammate, Aaron Lafitte, actually outgained him with 105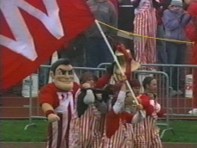 yards on 14 carries. Wabash built a 37-13 advantage before DePauw added a final score --
[DOWNLOAD VIDEO: "The Final Score" 646KB]a 19-yard Andy Yoder pass to Torey Rauch with just thirteen seconds remaining in the game.
The victory is the third straight for Wabash, which now leads the series 51-50-9. Nick Mourouzis retires with a record of 138-87-4 over 23 seasons. His win total is the most in DePauw football history and ranks 11th among active Division III coaches. DePauw finishes the season with a 5-5 record; Wabash was 7-3.
For
much more information on today's game, including photos, statistics and analysis, visit the DePauw football Web page by clicking here. An Indianapolis Star recap of the game can be accessed here. See the "Monon Memory" of the 2003 Classic here:
[Download Video: "2003 Monon Memory" - 4025kb]
Back