Kirk Hobbs '77 Named PSI Energy's West Area Manager
November 17, 2003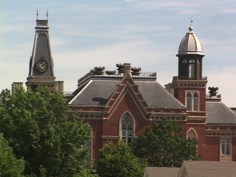 November 17, 2003, Greencastle, Ind. - Kirk E. Hobbs, a 1977 graduate of DePauw University, has been named west area manager of PSI Energy, Cinergy's Indiana operating company. Hobbs will be based in the company's Bloomington district office and will be responsible for all account and local customer services within PSI's western service area. In addition to customer service, Hobbs will manage economic and community development initiatives and will be the community's liaison with the Cinergy Foundation. He will work with local legislators, elected officials and business and community leaders on energy service matters and ensuring quality customer service.
"One of the advantages of being a Cinergy district manager is that you get to serve as a direct link between the company and the community. I look forward to being very involved in this area's groups and activities," Hobbs said. "In Indiana we have 49 district offices across the 69 counties we serve, and they are an important vehicle for keeping
Cinergy in touch with its customers."
Hobbs began his career with PSI Energy in 1977, and has worked in a variety of roles including sales, as manager of PSI's Mitchell/French Lick office, as general manager of residential sales and marketing, and was most recently manager of strategic accounts for the company's Ohio/Kentucky operations. A Cinergy news release notes that "Hobbs has a bachelor of arts degree in psychology from DePauw University."
You can access the complete announcement online by clicking here.
Back