DePauw Celebrates International Education Week 2003
November 17, 2003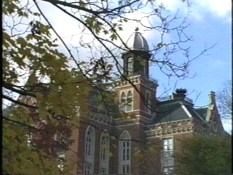 November 17, 2003, Greencastle, Ind. - Today marks the beginning of International Education Week 2003 on the DePauw University campus. DePauw's International Center, with the generous support of numerous students and faculty, has highlighted a number of events that are already taking place during the week, and has organized a number of other events to celebrate the commitment of DePauw to international educational exchange. You can access the complete list of International Week activities by clicking here.
Now in its fourth year, International Education Week is a joint initiative of the U.S. Department State and the U.S. Department of Education to promote programs that prepare Americans for a global environment and attract future leaders from abroad to study, learn, and exchange experiences in the United States. "Since the inception of International Education Week in November 2000, Americans have experienced several world events that should leave us with little doubt that we are living in an interconnected world," says U.S. Secretary of Education Rod Paige.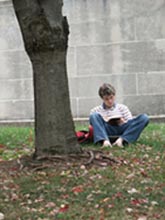 "The need for understanding other cultures, languages, and global issues has become increasingly more significant. We should do our very best to give our students the skills they need to be successful global citizens."
Read more about International Education Week by clicking here.
U.S. News & World Report ranks DePauw second among all of America's colleges and universities in the percentage of students who study abroad. Read more here. Last year, DePauw's International Week received an award from Brethren Colleges Abroad (which partners with DePauw and other colleges and universities to provide opportunities for study abroad) for the number and diversity of events that took place on the Greencastle campus.
Back