Massachusetts Newspaper Story on SAT Quotes VP Madeleine Eagon
November 17, 2003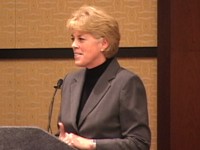 November 17, 2003, Greencastle, Ind. - "Madeleine Eagon, vice president for admission and financial aid at DePauw University in Greencastle, Indiana, said that the SAT is a good measure of what a student has learned over the years," writes John Winters in the Sun Chronicle of Attleboro-North Attleboro, Massachusetts. His article examines the role of the Scholastic Aptitude Test in the college admissions process today and also includes quotes from administrators at Bowdoin College and Ohio Northern University.
Eagon, who also serves as a member of the Board of Trustees of the College Board (read more here), tells the newspaper, "I know that there is a lot of talk about
teaching to the test, but my experience suggests that, at least with the SAT, you can't teach to the test. Students who do well have spent years developing the language and math skills that will enable them to succeed on the test. I think the criticism of teaching to the test is better leveled at all the state gateway exams that they must pass to earn a high school diploma. Those are specific skill based rather than thinking and reasoning tests and, thus, much more likely to be impacted by directed teaching," Eagon says.
Back