BizVoice Spotlights DePauw's 361° Initiatives
November 18, 2003

November 18, 2003, Greencastle, Ind. - "DePauw University's 361° Initiatives program cultivates not only the strong communication and critical thinking abilities associated with a liberal arts degree, but also an aptitude in technology that students could apply to any job," notes a story in the November/December issue of BizVoice, the magazine of the Indiana Chamber of Commerce. It continues, "What's unique about the program is that instead of teaching liberal arts and technology skills separately, it links them."
"It is making a difference in admissions," Dennis A. Trinkle, director of 361° initiatives, coordinator of information services and technology, and Tenzer University Professor in Instructional Technology at DePauw, is quoted in the piece.
"We're attracting students who previously might have gone to other schools, but are coming to DePauw because they are realizing they can get the information fluency at a top level liberal arts school."
Earlier this month, Dr. Trinkle, a 1991 graduate of DePauw, traveled to California to accept the 2003 EDUCAUSE Award for Systemic Progress in Teaching and Learning on behalf of DePauw and its 361° Initiatives. The Award has never before been presented to a university or college that is not a doctoral/research institution (read more here). In April, the New Media Consortium (NMC) notified DePauw University that it has been named a New Media Center for its 361° initiatives (read more here), one of only about 125 institutions worldwide to receive the designation. Dr. Larry Johnson,
president and CEO of the NMC, noted, "Even among a very strong field, it was quite clear that DePauw University is a place where smart, creative people are devising innovative solutions to challenges we all face in teaching and learning. The dedication to excellence here is palpable, and students and faculty are the clear beneficiaries." In May, DePauw was among three Indiana colleges and universities to receive Mira Awards for 361°'s "excellence in the delivery or use of technology to further learning and educational achievement" (read more here). The award was presented by TechPoint, the leading agent for change for Indiana's technology industry.
Trinkle tells BizVoice, "For the faculty, there are lots of aspects of 361° that are about helping teachers to teach more effectively, giving them tools to become more effective teachers...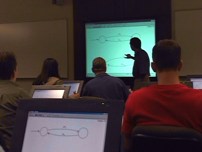 From a student's perspective, ultimately what is making the program successful is that it is giving them the tools to get a rewarding job after they graduate."
You can read the story in its entirety as a PDF file on the magazine's Web site by clicking here.
In February 2001, DePauw University received a $20-million grant from Lilly Endowment to establish a national technology center and launch a series of initiatives to guarantee that the university's 2,350 students, faculty, and staff will be equipped to provide the creativity and leadership required by the digital age. The name of the resulting model —- "361°" -— refers to DePauw's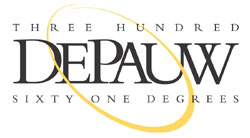 goal that these initiatives will prepare students for every degree of life and for creating the future. DePauw's efforts reinforce the institutional emphasis on critical thinking, problem-solving, interpretation, learning through experience, and learning through reflection. In this context, information technologies are integrated into curricular and co-curricular activities as a liberal art rather than in a skill-based approach, and IT tools are used as a scaffolding for discussion. Visit the 361° Web site here.
Back