New Book by Prof. Deborah Geis, Considering Maus, in Stores 12/2
November 19, 2003

November 19, 2003, Greencastle, Ind. - Considering Maus: Approaches to Art Spiegelman's "Survivor's Tale" of the Holocaust, edited by Deborah R. Geis, associate professor of English at DePauw University, will be released December 2 by the University of Alabama Press. The publisher notes that the book is "the first collection of critical essays on Maus, the searing account of one Holocaust survivor's experiences rendered in comic book form." Dr. Geis previously authored Postmodern Theatric(k)s: Monologue in Contemporary American Drama.
The new book explores Maus: A Survivor's Tale, the Pulitzer Prize-winning, two-volume illustrated work by Art Spiegelman, who visited the DePauw campus in October 2001 (access a story with audio clips here). A synopsis of Professor Geis' work states, "prominent scholars in a variety of fields take on Spiegelman's text and offer it the critical and artistic scrutiny it deserves. They explore many aspects of the work, including Spiegelman's use of animal characters, the influence of other 'comix' artists, the role of the mother and its relation to gender issues, the use of repeating images such as smoke and blood,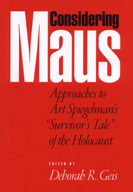 Maus' position among Holocaust testimonials, its appropriation of cinematic technique, its use of language and styles of dialect, and the implications of the work's critical and commercial success."
M. Thomas Inge, author of Comics as Culture, calls Considering Maus"an engaging and informative collection of new and fresh essays on what is proving to be a major cultural document of the twentieth century."
Read more about the book by clicking here. Order the book at Amazon.com and Barnes & Noble.com.
Back