Oregonian Examination of Holiday TV Marathons Quotes Prof. Kevin Howley
November 27, 2003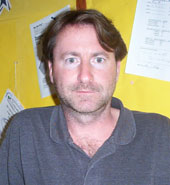 November 27, 2003, Greencastle, Ind. - Odds are, if you do any "channel surfing" on this Thanksgiving weekend, you'll encounter a "marathon" on one of the cable television networks, a phenomenon that's the subject of a story in today's edition of Portland's Oregonian. Kristi Tunrquist writes, "With cable as jammed as the post-Thanksgiving fridge, marathons help establish identity and focus attention on signature shows. 'It's programming that's already in the can,' says Kevin Howley, assistant professor in communications at DePauw University in Indiana.
Dr. Howley goes on to say, "It's branding themselves, 'We're FX and we're going to do a Buffy marathon.' The audience has been fragmented and segmented and certain cable channels appeal to niche audiences. In that way, it makes sense to make a big deal out of something that doesn't take a whole lot to put together.'"
You can access the column online by clicking here.
Source: The Oregonian
Back