A New Record: 10.1 Million 'Hits' on This Web Site Last Month
December 1, 2003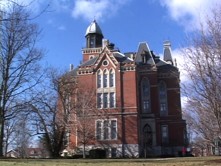 December 1, 2003, Greencastle, Ind. - For the first time in its history, DePauw.educrossed the ten million "hits" mark in November 2003, as the month that just ended saw traffic to this site continue to increase to new record levels. obliterated records set only one month before. This Web site received 10,165,885 "hits" in November, besting the previous record high of 9,413,867 set in September. This was the destination of 101,147 unique visitors in November, surpassing the previous high of 96,711 set in October and a 31% increase over November 2002 ("hits" is a count of all the successful hits including HTML pages, pictures, forms, scripts and files downloaded; unique visitors counts each user once per month; visits counts every time a user visits the site).
"Month after month, we're seeing that more people are visiting 'virtual DePauw' to check the news and sports, see what's happening on campus, and connect with the University," says web director Scott Cooper. "It's clear that more alumni and parents around the nation and the world are checking in on a regular basis, but another major driver seems to be prospective students who have heard about DePauw and come to the site to learn more about the University. On the whole, the statistics demonstrate that DePauw is becoming 'top of mind' to more people, which is terrific news."
In November, DePauw.edu received more than a half million hits per day on four different dates, which is unprecedented. The top traffic day was November 10, when there were 509,806 "hits". The 19th, 18th and 11th were also heavy volume days (the site averaged 338,862 "hits" per day last month).
"A major driver to the site, as is the case every November, was the Monon Bell Classic," notes Ken Owen '82, director of media relations (access stories here, here, here, and here). "That this year's game sold out in a record two days, was telecast nationally on HDNet, and that it marked the final contest for retiring Coach Nick Mourouzis all added to the excitement that you'd traditionally find at already high levels." Visitors also kept up with the women's soccer team's historic season, which culminated in a trip to the NCAA Final Four (read more here); the 2003 National Survey of Student Engagement (NSSE), released November 10, which finds that DePauw continues to outpace peer institutions and national averages in virtually every category (read more here); and the November 11 Timothy and Sharon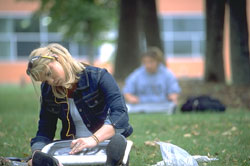 Ubben Lecture by Fast Food Nation author Eric Schlosser (read more here).
To put the growth of the Web site in perspective, DePauw.edu had 7,804,993 "hits" and 69,924 unique visitors in November 2002; 6,336,224 and 51,499 in November 2001; and 3,161,231 and 28,662 in November 2000. The busiest day of the week for the site continues to be Monday, with Saturday seeing the least traffic. The average visitor spent 15 minutes and 53 seconds on the site, per visit, last month. The top ten countries for visitors to the Web site were the United States, Canada, United Kingdom, Netherlands, Australia, Japan, Germany, France, Italy, and Mexico.
Back