Indianapolis Star Quotes Prof. Jeff McCall '76
December 4, 2003
December 4, 2003, Greencastle, Ind. - "A key factor in WTHR's success is local control, said Jeff McCall, professor of communications at DePauw University," writes Courtenay Edelhart in today's Indianapolis Star in a summary of how Indianapolis television stations performed in the November ratings "sweeps." NBC affiliate WTHR, she reports, won most of the key newscasts. Dr. McCall, a 1976 graduate of DePauw, tells the newspaper, "(Parent company Dispatch Broadcast Group) owns just one other station, in Columbus, Ohio, so their approach is to be as committed to those stations as they can, with focused resources and decentralized decision-making. They don't have to worry as much about a corporate bottom line."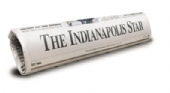 Edelhart adds, "WISH usually captures the bulk of the lunch-hour audience because its viewers tend to be older, and older viewers are more likely to be home during the day, McCall said."
You can access the article in its entirety by clicking here.
Source: Indianapolis Star
Back