John Neighbours '71 Joins Christian Theological Seminary Board
December 5, 2003
December 5, 2003, Greencastle, Ind. - John T. Neighbours, a partner in the law firm of Baker & Daniels and a 1971 graduate of DePauw University, has been elected to the board of trustees at Christian Theological Seminary, notes an article in the Flyer of Hendricks County, Indiana. His three-year term begins immediately.
The story notes that Neighbours "is chair of the board of Meridian Street United Methodist Church and was chair of its recent capital fund drive. The Indiana University School of Law graduate has been actively involved with United Way, the GTE and RCA Tennis Championships, the Indianapolis Chamber of Commerce, Noble of Indiana, the Indiana Sports Corporation, the Marion County Commission on Youth," and the Indianapolis Zoo. Neighbours is also a former member of the DePauw University Board of Visitors.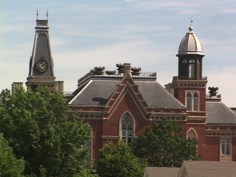 The Flyer states that Christian Theological Seminary "is a fully accredited ecumenical seminary in Indianapolis that is affiliated with the Christian Church (Disciples of Christ) and offers eight graduate-level degree programs including theology, ministry and counseling, with specializations in ministries that focus on youth and music. More than 30 church denominations are represented among faculty and students."
Read the newspaper article online by clicking here. Learn more about John Neighbours here. Back