Business Week Names Independent 529 Plan One of 2003's "Best Products"
December 8, 2003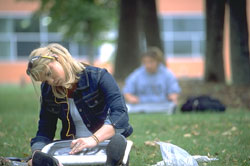 December 8, 2003, Greencastle, Ind. - DePauw University is among a group of colleges receiving accolades in the December 15 issue of Business Week for launching one of the "Best Products of 2003." Independent 529 Plan is a tax-advantaged plan for families to save for tuition at DePauw and more than 200 other participating private colleges. It is the brainchild of a nationwide organization of colleges and universities which designed the financial product and worked to win approval from both Congress and the IRS to get it up and running.
Each December, Business Week's editors cite what they think are the year's best products. "Innovation, big and small: That's what we looked for in picking the winners for 2003," they write.
Douglas M. Brown, CEO of Independent 529 Plan, says, "It has the advantages of state 529 plans, and in addition can essentially roll back the clock on the cost of future tuition." The group has hired TIAA-CREF's Tuition Financing, Inc. to administer the plan. DePauw helped launch Independent 529 Plan in September of this year.
"At DePauw, we're committed to working with families to provide options that make the college experience more affordable and accessible," says Madeleine Eagon, vice president for admission and financial aid at DePauw. "This program provides parents with a new and valuable tool to make private college a reality for their children."
Learn more about Independent 529 Plan in this previous story, by calling toll-free (888) 718-7878, or by visiting the Plan's Web site by clicking here.
Back