Four Student Journalists Honored by Hoosier State Press Association
December 9, 2003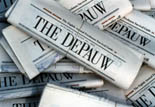 December 9, 2003, Greencastle, Ind. - Four staff members of The DePauw, the completely independent and student staffed and managed newspaper on the DePauw University campus, have been honored for excellence in journalism by the Hoosier State Press Association. In the college division, Brooke Barbee won a second place in "Best News Story"; Maria Sandoval took a second place in "Best Feature Story"; and Duke Wright won a third place award for "Best Photograph". In addition, DePauw sophomore Brian Kern, who also worked on The DePauw and interned with the Flyer newspapers of Indiana last summer, received a second place award for "Best Sports News Coverage" in the professional Division 1 Non-Daily for a story he wrote for the Flyer.
The awards, presented by the HSPA in conjunction with the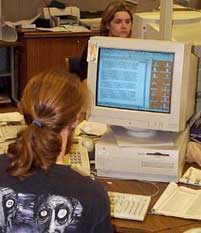 Indiana Collegiate Press Association, are for work published between November 1, 2002 and Oct. 31, 2003. The DePauw's awards are noted in Indiana State University's student newspaper, the Indiana Statesman, which won two awards, and writes, "only Indiana University's Indiana Daily Student and DePauw's The DePauw did better by winning three awards." Read more by clicking here.
In September, for a second consecutive year, The DePauw received a National Mark of Excellence Award for outstanding student journalism from The Society of Professional Journalists (SPJ; read more here). The DePauw, Indiana's oldest college newspaper, has also been named the state's best college newspaper for nine of the past ten years (read more here).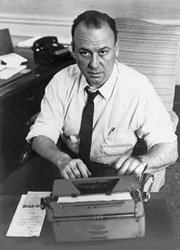 Founded in 1852 as Asbury Notes, The DePauw has a rich tradition of being the springboard for the careers of many of America's great journalists. Alumni of the student newspaper include "business journalist of the century" Bernard Kilgore (photo at left) and Kenneth C. Hogate of the Wall Street Journal, Eugene C. and Eugene S. Pulliam of the Indianapolis Star and Central Newspapers chain, Donald Maxwell, former editor of the Chicago Tribune, Robert Giles, curator of the Nieman Foundation for Journalism at Harvard University and former editor of the Detroit News, ABC News correspondent John McWethy, and James B. Stewart, Pulitzer Prize-winning former front page editor of the Wall Street Journal, best-selling author, and currently editor-at-large of SmartMoney magazine.
Back