Upcoming NOVA TV Documentary on Percy Julian '20 Continues to Take Shape
December 15, 2003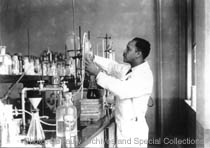 December 15, 2003, Greencastle, Ind. - Production continues on a NOVA profile of legendary chemist and 1920 DePauw University graduate Percy Lavon Julian, parts of which were filmed at DePauw. The Daily Item of Lynn, Massachusetts notes that the PBS show, "which is the most watched science television series in the world, was filming a portion of its new 2-hour documentary, a biography of Percy Lavon Julian, in the [Nahant, Massachusetts] Town Hall ballroom Sunday. Associate Producer Franziska Blome said the ballroom is being used as the setting for one of Julian's speeches, which is 'the story-telling spine' of the film" that is expected to air sometime in 2005.
At DePauw, NOVA has interviewed professor emeritus of chemistry Donald "Jack" Cook and his wife, Marion, who were friends with Dr. Julian and still communicate with his family, and Wesley J. Lyda, a 1935 DePauw graduate who studied under Julian.

[DOWNLOAD AUDIO: "DePauw & Percy Julian" 379KB]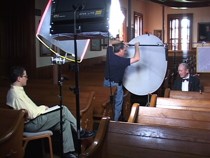 "DePauw played a very significant role in Percy Julian's life at several different points," said Steve Lyons, co-producer and writer of the show, said while on campus. "Of course, [Julian] was an undergraduate here, got interested in chemistry under [Professor] William Blanchard, then came back as a research associate in his thirties and made his name in chemistry by synthesizing physostigmine [which allowed affordable treatment of glaucoma]. Those are the two key episodes in his life involving DePauw in his life, and we want to make sure that those are part of the film."
The Daily Item article notes, "Julian, who was the first African-American ever elected to the National Academy of Sciences, graduated from the State Normal School for Negroes in Montgomery, Alabama, and was admitted to DePauw University in 1916.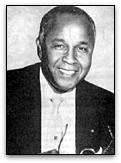 Following his graduation from DePauw in 1920, he taught at Fisk University in Nashville, Tennessee, West Virginia State College and Howard University. Julian then went to Austria, where he received a Ph.D. from the University of Vienna in 1931. Julian later served as director of research for the Glidden Co. of Chicago - Soya Products Division, where he discovered numerous uses for the soybeans. His research led to discoveries in the manufacture of drugs, hormones, vitamins, amino acids, paint and paper, yielding more than 100 patents, including a synthetic cortisone called Compound S, and the means of producing two synthetic hormones, testosterone and progesterone. After leaving Glidden, the civil rights activist, he founded his own company. Julian, who died in 1975, received 15 honorary degrees and numerous awards and citations, authored and co-authored more than 160 publications, and was a trustee of five universities, including DePauw."
You can access the newspaper article by clicking here. An article on the NOVA crew's appearance at DePauw can be found here.
DePauw's Science and Mathematics Center (seen at right) bears the name of Percy Lavon Julian and was rededicated this fall. Read more about that, and access video and audio clips from the event, here.
Back