Israel's "Prophet of Peace," Shimon Peres, to Deliver Ubben Lecture March 31
December 17, 2003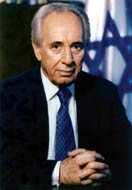 December 17, 2003, Greencastle, Ind. - Shimon Peres, the twice elected Prime Minister of Israel who currently serves as chairman of Israel's opposition Labor Party, will come to the DePauw University campus on Wednesday, March 31, 2004 to deliver a Timothy and Sharon Ubben Lecture. Mr. Peres, who spoke at DePauw on November 11, 1996, will become only the second-ever repeat Ubben Lecturer since the series began in 1986. His speech will begin at 6:30 p.m. in Kresge Auditorium of DePauw's Performing Arts Center. As with all Ubben Lectures (see complete list by clicking here), the event is free and open to the public.
In the long and continuing struggle for harmony in the Middle East, there is no more lasting or devoted peace-seeker than Shimon Peres, who MSNBC recently called a "perpetual prophet of peace." The winner of the 1994 Nobel Peace Prize, Mr. Peres has dedicated his entire adult life to the formation of his country and the realization of peace between Israel and her neighbors.
Mr. Peres' family emigrated to Tel Aviv from Poland in 1934, when he was eleven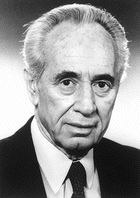 years old. Peres served as director general of the Defense Ministry, 1953-59. He was a central figure in Israel's Sinai campaign in1956, and was the founder of Israel's nuclear program. He served as prime minister, 1984-86 and 1995-96, and as foreign minister, 1986-88, 1992-95, and 2001-02. During his first term as Prime Minister, Mr. Peres credited with saving the Israeli economy from near collapse. His second term as Prime Minister came in the wake of the assassination of Yitzhak Rabin on November 4, 1995. During the 1990's, Peres was the key architect of the historic Oslo Peace Accords. In March 2001, Mr. Peres was appointed Minister of Foreign Affairs and Deputy Prime Minister in the National Unity government headed by Ariel Sharon, serving until October 2002 when he resigned together with the other Labor ministers.
Mr. Peres shared the 1994 Nobel Peace Prize with Yasir Arafat and Yitzhak Rabin for their efforts to create peace in the Middle East. In announcing the award, the Norwegian Nobel Committee noted, "For several decades,

the conflict between Israel and its neighbor states, and between Israelis and Palestinians, has been among the most irreconcilable and menacing in international politics. The parties have caused each other great suffering. By concluding the Oslo Accords, and subsequently following them up, Arafat, Peres and Rabin have made substantial contributions to a historic process through which peace and cooperation can replace war and hate."
In 1996, the Nobel Laureate founded the Peres Center for Peace in 1996 with the express aim of realizing his vision of a "New Middle East", in which people of the region work together to build peace through socio-economic cooperation and people-to-people relations. As a non-partisan, non-governmental organization, the Peres Center for Peace works in parallel to, but independently from,
the political process towards peace (learn more by clicking here).
Shimon Peres has authored a number of books including: For the Future of Israel, David's Sling, And Now Tomorrow, The New Middle East, Battling for Peace, and The Imaginary Voyage.
During his 1996 Ubben Lecture at DePauw, Peres said,
[DOWNLOAD VIDEO: "Shimon Peres 11/11/1986" 859KB] "I pray that you and us will use the years to come to continue determinedly, without any fears or any doubts, to enable the other half of humanity to enjoy peace and prosperity. And then we shall be true to our basic values as human beings." In a recent speech, Peres stated, "You cannot make peace without the Arabs," adding, "You have to have a partner. . . . You cannot change a
nation and you cannot change the atmosphere. You have to negotiate with people as they are."
The Ubben Lecture Series has brought distinguished individuals to the DePauw University campus since 1986, including 2004 presidential candidate and retired General Wesley Clark, former British Prime Ministers Margaret Thatcher and John Major (seen in photo meeting with DePauw students), General Colin Powell, Ross Perot, Spike Lee, Mike Krzyzewski, Harry Belafonte and ice cream entrepreneurs Ben & Jerry. To view a complete list of Ubben Lecturers, which includes links to video clips and news stories, click here.
Back