Federal Reserve Publishes Article Co-Authored by DePauw Junior
December 17, 2003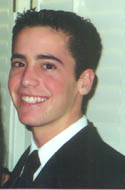 December 17, 2003, Greencastle, Ind. - An article co-authored by DePauw University junior Adam Ratner appears in the current issue of Southwest Economy, which is published by the Federal Reserve Bank of Dallas. Ratner, a Management Fellow from Dallas, spent last summer working for the Fed. The essay, titled, "Beyond the Border: Do What You Do Best, Outsource the Rest?," was written with Thomas F. Siems, a senior economist and policy advisor in the research department of the Federal Reserve Bank of Dallas.
"The newest US trade commodity is skilled white-collar work, with an estimated 60 percent of these outsourced jobs going to India," write Ratner and Siems. "As with most traded commodities, outsourcing work abroad is the product of lower foreign labor costs and potentially higher future profits. And like free trade, outsourcing has become controversial."
The authors ask, "What is outsourcing? Why is India the leading country in attracting outsourced work? And what are the economic and political implications as firms do what they do best and outsource the rest?," and proceed to offer answers to the queries.
You can read the complete article, which notes that "Ratner is a student at DePauw University," by clicking here.
Back