Bill Lynch Named DePauw's Head Football Coach
December 23, 2003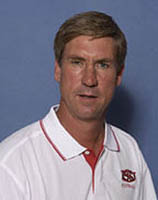 December 23, 2003, Greencastle, Ind. - Bill Lynch, former head football coach at Ball State and Butler Universities, is DePauw University's choice to succeed retiring head football coach Nick Mourouzis, DePauw Athletic Director Page Cotton announced today. "I'm really excited to have the opportunity to be the head football coach at DePauw," Lynch said. "Going back to my days as an undergraduate at Butler, I've always had a great respect for DePauw."
Bill Lynch is as widely known and respected for his commitment to academic success as he is for his work on the football field. His players at Ball State had one of the highest graduation rates in the MAC, and the opportunity to work with student-athletes at DePauw, ranked in the top tier of America's national liberal arts colleges, is something he looks forward to.
"It's an honor to work for a University with the tremendous academic reputation throughout Indiana and across the country," Lynch said. "I've coached in Indiana 25 years and have been around DePauw University and the program and there's great respect for it."
"There are many qualities Bill has that made him our top choice," said Cotton. "But a major consideration was his respect for the fact that college athletes are, first and foremost, students. I'm confident that Bill Lynch will continue the winning traditions of DePauw University football, and I'm just as sure that, under his guidance, our student-athletes will leave DePauw prepared for success in life and life's work."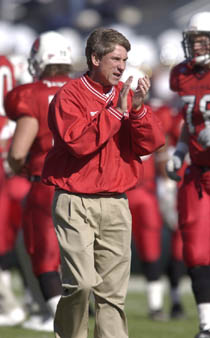 Lynch, who has a career record of 73-65-3 over 13 seasons, led Ball State's football program from 1995-2002. The Cardinals won the 1996 Mid-American Conference title and participated in the Las Vegas Bowl, while the 2001 squad finished as co-champions of the MAC West Division. The Ball State program was recognized from 2000-02 for outstanding graduation rates.
A 1977 graduate of Butler, Lynch was the head coach at his alma mater for five seasons from 1985-89 where his teams compiled a 36-12-3 record. He led the Bulldogs to four Heartland Collegiate Conference championships and was named the conference coach of the year three times. Lynch earned two Regional Coach of the Year honors from the American Football Coaches Association and directed the 1988 team to the NCAA Division II playoffs with four of his five squads ranked in the top 20 in Division II. He has also served in assistant coaching positions at Butler, Ball State, Indiana University, Northern Illinois University and the Orlando Renegades of the USFL. For the past year, Lynch has served as Ball State's associate athletics director for community relations.
Mourouzis, DePauw's all-time leader in games won by a football coach, announced in August his plans to retire at the conclusion of the 2003 season. In 23 seasons at the helm, Mourouzis' teams amassed a 138-87-4 record at DePauw. "Coach Mourouzis has been a great friend and mentor," Lynch said. "With the success he's had and the
tradition he's established I feel it's a privilege to follow him as the head football coach. All of us in the coaching profession have great respect for him."
Lynch becomes just the ninth head football coach at DePauw since 1930 and enters a program that has compiled a 487-447-40 record in 116 years of competition. DePauw returns 38 lettermen from a team that finished the 2003 season with a 5-5 record. "I am anxious to get going, working with the staff, meeting with the players and getting out and recruiting."
Bill Lynch's Coaching Experience

Years

School/Team

Position (s)

1977-83

Butler University

Offensive coordinator, quarterback and receiver coach, recruiting coordinator

1984

Northern Illinois University

Quarterback coach, offensive coordinator

1985

Orlando Renegades (USFL)

Quarterback coach

1985-89

Butler University

Head coach

1990-92

Ball State University

Offensive coordinator, quarterback coach

1993-94

Indiana University

Quarterback coach

1995-2002

Ball State University

Head coach
Back