Five DePauw Alumni Honored
December 26, 2003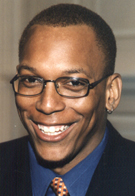 December 26, 2003, Greencastle, Ind. - Five DePauw University alumni were among the eight outstanding Decatur, Illinois, high school graduates honored at a black-tie recognition event held by the Decatur Public Schools Foundation entitled, "Celebrate! The Legacy of Learning." Jason B. Small '95 was one of three recipients of the Young Alumni Award. Four members of one family (Dr. G. Richard Locke III '83, Dr. Jonathan T. Locke '85, Dr. Mark D. Locke '87 and J. Michael Locke ' 89) received the Outstanding Alumni Award. (Jason Small seen at left in photo by Marilyn E. Culler; Locke family photo is below)
Small, a 1991 graduate of MacArthur High School, was selected for the Young Alumni Award based on his many accomplishments while overcoming challenges in his life. In fact, he credits the Locke family for having a significant impact on his life and encouraging him to attend DePauw. Small's mother is an administrator at Decatur Memorial Hospital, of which the Locke brothers' father, Dr. G. Richard Locke II '58, is president.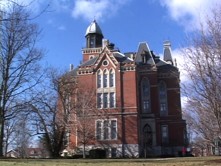 "I wouldn't have gone to DePauw, if it wasn't for the Locke family. At the time, I wanted to go to a public university, but they helped me to not turn my back on my small-town values, which is probably why I was successful at DePauw." Small said. "At DePauw, if you work hard enough to excel, then you' ll always have the opportunity to do so."
A political science major, philosophy minor and Management Fellow at DePauw, Small was a Rhodes Scholar state finalist, Phi Beta Kappa and Outstanding Political Science Major award winner. While pursuing a Juris Doctorate degree at Yale Law School, he was a fellow in the Congressional Black Caucus Foundation and the Office of the U.S. Trade Representative, Office of African Affairs. He was an associate attorney for Bernabi and Katz in Washington, D.C., and most recently served as a special policy adviser for the Honorable Sheila Jackson Lee of Texas. Currently, he is writing a book about generational apathy and tentatively titled How to Live in Dangerous Times, which Small said is true to his well-known nature while a student at DePauw.
The Locke brothers were recognized for their many achievements and success in their careers. Richard Locke spoke on behalf of the brothers,
all graduates of Eisenhower High School, in accepting the Outstanding Alumni Award. He praised the education they received in the Decatur public schools, which taught them many lessons in life and allowed them to learn so much about others. It taught them that "some people live in big homes, some in small homes, and some in no home at all," he said.
G. Richard Locke III is a gastroenterologist at the Mayo Clinic in Rochester, Minn., and an associate professor of medicine at the Mayo Clinic College of Medicine. He is vice chair for planning, director of the Esophageal Interest Group, and director of the Outcomes Research Unite for the Division of Gastroenterology and Heptalogy. He is internationally known for his expertise and research related to the epidemiology of gastroesophageal reflux disease and irritable bowel syndrome.
Jonathan T. Locke is a Doctor of Diagnostic Radiology with Decatur Radiology Physicians Services at Decatur Memorial Hospital. Previously, he was a doctor with West Side Imaging in Cleveland. His awards include the Solon Summerfield Scholar in recognition of his scholarship, leadership and contribution to the college; the Henry Perlmutter Award; and Teacher of the Year in 1984 and 1999 for excellence in teaching.
Mark D. Locke is a pediatric orthopedic surgeon specializing in the care of crippled children. He served as chief resident of orthopedics at Children's Memorial Hospital in Chicago and then served a fellowship at
Scottish Rite Children's Hospital in Atlanta. He now practices with the Austin Moore Clinic in Columbia, South Carolina, with a teaching appointment at the University of South Carolina. He has pioneered new reconstructive techniques for severely injured children.
J. Michael Locke is president of Collegis University Solutions, Inc., which owns and operates a network of colleges throughout the United States. University Solutions offers programs in business, healthcare, information technology and education from the certificate level through master's degree. Prior to joining Collegis, he was chief financial officer of Eduprise, Inc., a pioneer in the e-learning market. He is well-known nationally as an expert in the business of online collegiate education.
Back