Senior's Internship with TV's Law & Order Subject of Newspaper Article
December 30, 2003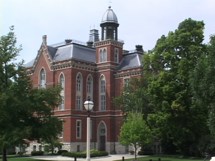 December 30, 2003, Greencastle, Ind. - 'They say the real star of TV's wildly popular Law & Order is New York City. If so, DePauw University senior Kevin Skillern worked in one of the show's most important units during the fall semester," begins a story in today's Indianapolis Star. "Skillern was an intern in the locations department, helping scout dozens of spots for scenes in the show, now in its 14th season."
Abe Aamidor writes, "Most of his time was spent getting permits from City Hall, delivering contracts for business and property owners to sign, or giving people their checks... Skillern won the internship (no pay, but he got a $10 daily stipend, a free lunch and a place to stay) after an interview with the show in New York City last summer. The internship program is a joint venture of DePauw and the Great Lakes Colleges Association, which places about 40 students in NYC each semester to experience some aspect of the arts."
The assistant location manager for Law & Order, Matt Lamb, says Skillern,

a senior English major, "was very mature. He was invaluable. He got to the point where he could have done both of his bosses' jobs in a pinch if we weren't there."
Read the story, which includes a color photo of Kevin Skillern, at the Star's Web site by clicking here.
Back