Indianapolis Business Journal Spotlights Innovative Technology with DePauw Roots
January 7, 2004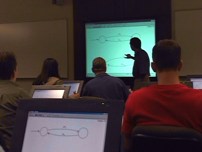 January 7, 2004, Greencastle, Ind. - "For a professor, nothing is more frustrating than a room full of glassy-eyed stares. So DePauw University computer science professor Dave Berque got a little excited one day when seven eager hands shot up in the air," writes Peter Schnitzler in the Indianapolis Business Journal. "The students wanted to tell him the ceiling lights were in flames. 'I was in a room with 100 people, it was on fire, and only seven noticed,' Berque said. 'The rest were too worried about getting all the notes off the blackboard.' So Berque began designing software to promote interactive education. The result was a university proprietary system called DePauw Electronic Blackboard for Interactive Education, or DEBBIE. He introduced it to classes in 2000. By 2002, the university was offering it to other professors."
The story continues, "When high-tech entrepreneur David Becker, a DePauw alumnus ['75], heard about DEBBIE, he invested $1 million. The result was a new version that could work at schools besides DePauw and a company called Dynamic Knowledge Transfer LLC, or DyKnow, which Becker organized. The startup has six employees and an intern. Besides DePauw, DyKnow has already found customers in the University of Southern California and Cabrillo High School near northern California's Vandenberg Air Force Base. In November,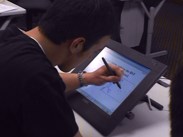 it earned a 'Best in Show' award at the national Educause conference."
Schnitzler notes that "Becker's previous business ventures include re:Member Data Services Inc., AmeriCard, First Internet Bank of Indiana and Virtual Financial Services Inc., or ViFi. In January 2002, Becker sold ViFi to Calabasas, Calif.-based Digital Insight Corp. for nearly $54 million. DyKnow, Becker said, has similar potential. 'Bulbs went off in my head. I said, 'Man, this is huge,'' Becker said."
The article points out that DyKnow's technology allows professors and students to instantly share information and ideas, while "other education systems on the market allow only one-way presentations of the PowerPoint variety... The goal is to avoid the 'human copier' mentality that pervades too many classrooms. Rather than spend their time transcribing like stenographers, students in DyKnow-enabled classrooms can instead contemplate, analyze and question."
Later, Schnitzler writes, "Although he never envisioned it as a company, Berque is happy with what Becker's done to bring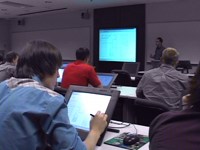 DEBBIE to a wider market. Berque has no position with DyKnow since Becker licensed the technology from him for an unspecified amount. 'As an academic, my initial goal was not a commercial solution,' he said. 'But over time, he pretty much convinced me whenever I said this is an obstacle, he had a good solution to overcome it.'"
You can access the complete article at IBJ's Web site (a paid registration is required) by clicking here. Read a previous story about the technology here.
Back