Mark Emkes '75 Named CEO & President of Bridgestone Americas
January 8, 2004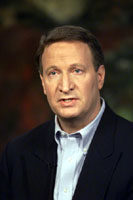 January 8, 2004, Greencastle, Ind. - Mark A. Emkes, a 1975 graduate of DePauw University, has been named CEO and president of Bridgestone Americas Holding, Inc. (BSAH). Emkes, currently chairman, CEO and president of Bridgestone/Firestone North American Tire, LLC (BFNT), the largest subsidiary of BSAH, will replace John Lampe, who is retiring effective March 31, 2004 after more than 30 years of service. Nashville, Tennessee-based Bridgestone Americas Holding, Inc. (BSAH) is a subsidiary of Bridgestone Corporation, the world's largest tire and rubber company.
Lampe made his retirement announcement yesterday afternoon during a company-wide live webcast and conference call intended to reach many of the almost 50,000 Bridgestone Americas associates. During his remarks, Lampe praised the choice of his successor, "I am extremely happy to announce that Bridgestone Corporation, our parent company and sole shareholder, has chosen Mark Emkes to succeed me as chairman and CEO of Bridgestone Americas Holding. I have known Mark for more than 25 years and he is the right person at the right time for the job, and it is our company's strength that we can promote
from within." Lampe continued by saying, "While Mark and his team have made great progress at BFNT they still have a ways to go to make the tire business globally competitive and profitable. For that reason Mark will continue as chairman and CEO of that company concurrent with his responsibilities at BSAH" (photo at right shows, l-r, John Lampe and Mark Emkes).
Responding to Lampe's comments, Emkes thanked him for his support and said he was "excited and thrilled to be given the opportunity to lead the best organization in the rubber and tire business." He continued by saying that while there is "still a long way to go in our company's recovery plan, our team under John's leadership has laid the groundwork, the basis, for solid business growth in the future. It is a privilege and an honor to be succeeding John at this time in the company's history."
In a related development, Lampe will be retiring from Bridgestone Corporation's board of directors effective March 30, 2004. Bridgestone Corporation will place Emkes' name in nomination for election to the Tokyo-based company's board of directors at the annual shareholders' meeting to be held in late March 2004.
A company news release notes that "Emkes graduated from DePauw University with a bachelor's degree in economics in 1975 and received a master's degree in international management from the American Graduate School of International Management ('Thunderbird') in 1976. A twenty-seven year veteran with the company, he joined the former Firestone Tire & Rubber Company as a college class trainee in trade sales, with his first assignment as a store manager in Baytown, Texas. He then joined the international side of the tire business, with assignments in the United Arab Emirates and several tours of duty in each of Spain, Mexico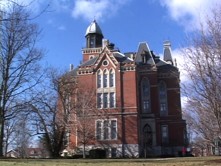 and Brazil, holding the position of president of Bridgestone/Firestone de Mexico (1990 to 1997) and Bridgestone/Firestone do Brazil (1997 to 2000). He returned to the United States in late 2000 to accept the assignment as president, Bridgestone/Firestone Latin American operations. Currently, Emkes serves as chairman, CEO and president of BFNT."
You can access more information at Business Wire by clicking here, or read an article in the San Diego Union Tribune by clicking here.
(photos of Mark Emkes by Robin Weiner/US Newswire)
Back