Newspaper Writes of Speech by Jeff Bowe '85
January 8, 2004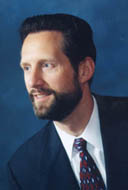 January 8, 2004, Greencastle, Ind. - "Jeff Bowe discussed Tuesday what it takes to be an effective leader for the first Tech Tuesday event specifically targeted toward women -- although the session's subject was not gender specific," notes an article in Muncie, Indiana's Star Press on the 1985 DePauw University graduate. "More than 120 people (mostly women) participated in Indianapolis, and at videoconference sites at Columbus and Muncie. Nearly 50 attended at the Ball State University Alumni Center. Bowe is a regional vice president for The Resource Development Group, a business consulting company. A speaker on the subject for 30 years, Bowe talked about skills that leaders needed, including vision, communication, commitment, passion, focus, core values and accountability. But at the end of the session, he left it up to participants to trigger changes in their lives."
The story by Michael McBride continues, "After demonstrating how the skill sets could interact to obtain results, Bowe had participants write down what actions they would need to take in the next 45 days to change their personal and professional lives." Bowe told his audience, "Put it down on paper, and it becomes a commitment, with meaning and depth to it. Then put the card in your pocket, in your wallet, on your computer screen -- some place where you will see it, and have to think about it."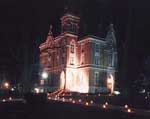 McBride adds, "Leaders have huge inventories of skills, Bowe said. Being able to pick the one they need at any specific time is what sets them apart from managers, Bowe said."
You can read the complete article at the Star Press' Web site by clicking here. Another story, which previewed the speech, mentions Jeff Bowe's DePauw degree. It can be found here.
Back