Prof. Ken Bode Previews Iowa Caucuses and Inevitable Candidate Casualties in Star Op-Ed
January 16, 2004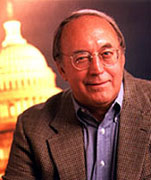 January 16, 2004, Greencastle, Ind. - "Each four years the function of the Iowa caucuses is to winnow the field. When the votes are counted Monday night, Carol Moseley Braun, Dennis Kucinich and Al Sharpton surely will be among those winnowed out," begins an op-ed piece by Ken Bode, Eugene S. Pulliam Distinguished Professor of Journalism at DePauw University, published in today's Indianapolis Star.
The piece, which is headlined "Goodbye to candidates who made us laugh and think," continues, "These three are in a category termed vanity candidates: ambitious, ego-driven, often interesting, but universally recognized as hopeless. However, seemingly serious contenders sometimes prove to be vanity candidates. From the GOP past, John Connally, Phil Gramm and Alexander Haig come to mind. In any case, Moseley Braun is gone and Sharpton and Kucinich soon will be, so let us say a kind word because each leaves something good behind," Bode, former senior political analyst at CNN, writes.
You can access the column in its entirety by clicking here.
A week ago in the Star, Ken Bode wrote of Howard Dean's emergence as

the Democratic front-runner and how his Democratic colleagues are trying to gain footing in the race by questioning his policies and his past. "The candidates lining up to take their shots at Dean all believe they are raising legitimate issues. Perhaps they are, and how Dean takes the fire will reveal important attributes of his temperament. In the short run, however, the piling on may prove counterproductive." You can read more about that by clicking here.
Source: Indianapolis Star
Back