Prof. Dave Roberts, A "Priceless Resource" as Reserve Firefighter, Profiled in Newspaper
January 16, 2004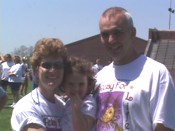 January 16, 2004, Greencastle, Ind. - "Upon entering David Roberts' office on the third floor of the Julian Science Center, people not only see chemistry, they also see his family, fire department items, and his Batman collection. These items are also a part of his personality," writes Amanda Callahan in today's edition of Greencastle's Banner-Graphic, which features a photo of Dr. Roberts on the front page. It continues, "Roberts is a part-time assistant professor of chemistry, chemistry laboratory manager, and hazardous materials specialist at DePauw University. David Roberts is much more than an average professor. He is also a reserve firefighter for Greencastle Fire Department" (file photo shows Dave and Jackie Roberts and their daughter, now 5).
Callahan explains, "Roberts was working for DePauw and working on the Lonestar Community Focus Panel, when he met Greencastle Fire Chief Bill Newgent. 'I wanted to do something in town, to help the community. I talked to Newgent about it, and he suggested I become a reserve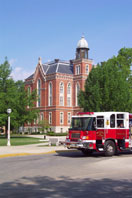 firefighter for Greencastle.' After one year, Roberts has not only become a reserve firefighter, he has taken on the responsibilities of haz-mat specialist, the highest level in the field, coordinator of GFD's haz-mat team and a haz-mat instructor.
Chief Newgent calls Dave Roberts a "priceless resource," adding, "Roberts is an excellent firefighter. We are very fortunate that DePauw allows him to leave and come help us." Callahan points out that Roberts "is married to Jacqueline Roberts, assistant professor of chemistry and coordinator of the biochemistry program at DePauw." Jackie Roberts, the story adds, recently received the Exemplary Teaching Award (read more here).
You can read the article in its entirety by clicking here.
Back