Story on Resurgence of Board Games Quotes Prof. Kevin Howley
January 17, 2004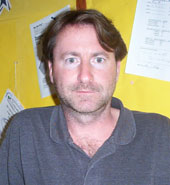 January 17, 2004, Greencastle, Ind. - "Kevin Howley, assistant professor of communications, arts and sciences at DePauw University in Greencastle, Indiana, said despite their popularity, video games still leave many people cold," notes Central Pennsylvania's Patriot News. The story, which examines a recent climb in the sales of old-fashioned board games, quotes Dr. Howley as saying, "The incessant violence, especially against racial/ethnic minorities and women, prevalent in video games turns off some game enthusiasts. Women and young girls are woefully underserved by game manufacturers."
Howley continues, "Board games do not discriminate based on gender, or age for that matter. Board games have greater appeal across generations than video games. [And they]
involve 'higher level' skills [than the] manual dexterity and hand-eye coordination [emphasized in video games]."
You can access the complete article by clicking here.
Back