Civil Rights Legend Vernon Jordan '57 Reflects
January 18, 2004
January 18, 2004, Greencastle, Ind. - "This year is the 50th anniversary of the landmark Brown vs. Board of Education Supreme Court ruling that desegregated America's schools. What did that decision mean to you?," civil rights legend and 1957 DePauw University graduate Vernon E. Jordan Jr. is asked in today's edition of the Minneapolis Star Tribune. He responds, "I was a freshman in college at DePauw University in 1954 -- the only black person in my class. When Brown came down that spring, I thought about the segregated schools I had attended in Georgia, the fact that I used a geometry book in 1951 that had been used by white students in 1935. I thought about the hand-me-down band instruments we used ... that we didn't have a gymnasium. I thought, all that is over now. Other black kids will have it better. That was my reaction then." He adds, "Brown made a tremendous difference."
Jordan, the former president of the National Urban League who will deliver the keynote address at tomorrow's annual Martin Luther King breakfast at the Minneapolis Convention Center,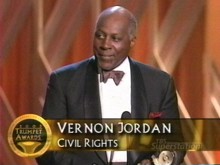 is also asked why he's never been a candidate for political office. "I've never run because I'm not sure I can ever make a concession speech. I lost for student body president once in high school and never got over it. Seriously, I announced the intention to run for Congress in 1969 -- three weeks later I was offered the job at the [United Negro College Fund] and decided to take it. As for other political jobs, when I turned Clinton down for attorney general, I never regretted it -- except once. That was the night of Waco, Texas [when a standoff between federal officers and the Branch Davidian cult resulted in about 80 deaths]. I would have handled that differently."
An adviser to Presidents Clinton and Carter, Jordan is asked to cite his most important accomplishments.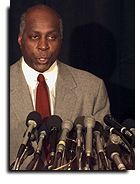 "I often think about being involved in registering nearly 2 million voters during registration drives in the South. ... of pushing government and corporate America to do the right thing," he says. "I've served on many corporate boards and my presence made a difference. Many companies now know they should not have all-white, all-male boards. When I speak about the state of civil rights today I want to be positive. The movement has always survived because it had hope -- I don't want people to give up. If you give up, you give in. I think we should realistically celebrate what we've done, and know that we can and must do better."
You can read the entire piece at the Star Tribune's Web site by clicking here (a free registration is required).
The author of Vernon Can Read!: A Memoir and senior managing partner at Lazard LLC, Vernon Jordan received the Trumpet Award last year in a nationally-televised ceremony (read more here). He also was cited as one of "The Top 50 African-Americans On Wall Street" in the October 2002 issue of Black Enterprise.
In July 2002, Forbes listed Jordan as the ninth most powerful black executive in America. In 2001, he was honored with the National Association for the Advancement of Colored People's Spingarn Medal.
Back