9/11 Commission Co-Chaired by Lee Hamilton '52 Hits Apparent Roadblock
January 21, 2004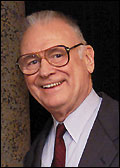 January 21, 2004, Greencastle, Ind. - "It looks as if the plug is going to be pulled on the independent commission investigating the September 11, 2001, terrorist attacks before it can finish its work thoroughly," begins an editorial in Florida's Gainesville Times. The commission is co-chaired by Lee Hamilton, a former United States congressman and 1952 graduate of DePauw University. The panel is scheduled to finish its work in May, but had requested an extension. Reports in recent days have suggested that the Bush administration and congressional Republicans will not grant the commission the additional time it requests.
The Times states, "The commission, led by former New Jersey Gov. Thomas Kean, a Republican, and former Indiana congressman Lee Hamilton, a Democrat, has been at odds with the Bush administration and New York City officials over access to critical documents. At one point, the commission threatened to subpoena White House officials to force their testimony about events that led up to the attacks. Ending the commission's efforts prematurely would mean, of course,
that an opportunity to fully explore what transpired within the Bush and Clinton administrations prior to the attacks would be lost. Most Americans should regard that as unacceptable."
You can access the editorial by clicking here. Last April 22, Lee Hamilton returned to DePauw to address a forum on the Middle East. Read about that event, and access audio clips from the discussion, here.
Back