President Bottoms Updates Efforts to Build a Responsible Community
January 22, 2004
Visit Coalition for a Responsible Community Web Site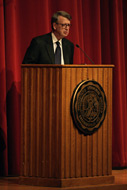 January 22, 2004, Greencastle, Ind. - In his 18 years as president of DePauw University, Robert G. Bottoms says he's

[DOWNLOAD AUDIO: "Buiding a Responsible Community" 496KB] "spent a lot of time thinking about the kind of community I would like for DePauw to be. And I hope it's the kind of community that you would like DePauw to be," Bottoms told first-year students last night as he updated the initiative launched last March to build a responsible community. "I want it to be the kind of community where, you can come here, you can feel safe all the time, you can feel unpressured to behave in certain ways, and during your four years here -- when you're graduated -- you can say 'I made a major step toward living up to the full potential that I had.' That's really what all of this is about."
On March 4, 2003, Dr. Bottoms began what he called "a series of conversations" with students, faculty and staff members on the issues of alcohol abuse and related at-risk behaviors at DePauw, and stated his determination to develop a long-term effort to change the ethos of the campus community.
[DOWNLOAD VIDEO: "The Goals" 1200KB] "I wanted students to have called to their attention the real way we live at DePauw, identify the things we like most about our community -- the things that are the best -- and figure ways to embellish those, and similarly, to be very candid about things that go on in our community that we don't like, and see if we can't strategize to eliminate some of the pain that students often have to go through."
President Bottoms says there remain several misconceptions about the ongoing effort that he launched last year. Those who believe the University is "doing this just for show" are wrong, he says, as are people who worry that "the University in general, and the President in particular, want to phase out the Greek system. Nothing could be any further from the truth," Bottoms told his audience at Kresge Auditorium.
[DOWNLOAD AUDIO: "Campuswide Effort" 198KB] "Some people have said, 'Well, the whole initiative so far has focused on the fraternities. I think as we continue our conversations
you'll see that's not the case. We're just as concerned about things that happen in the residence halls where you live as we are in the fraternity houses."
The goal of the initiative, Bottoms stressed, is not to "get rid of alcohol and bring about prohibition" but to end alcohol abuse. The Coalition for a Responsible Community -- composed of alumni, faculty, students and administrators -- and three task forces are continuing their work, including a group that is creating a covenant for the DePauw campus.
[DOWNLOAD AUDIO: "The Covenant" 370KB] "Any community that you'll ever be involved in has certain values. That's what holds a community together: certain interests, values, [and] concerns in common. Some colleges are beginning to say, 'Let's have all of these conversations and let's be very public about the values we hold.' So that when students are looking at DePauw and trying to decide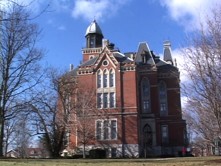 whether you want to attend here or not, you have some idea about the community you're getting into," Bottoms stated.
Another group is working on a relationship statement, and will issue a report in a few weeks.
[DOWNLOAD AUDIO: "Relationship Statement" 143KB] "It's the first time we've done this: try to put to paper what the University should expect of sororities and fraternities that practice on our campus and, in turn, what they should expect from us."
President Bottoms noted that each day, four people die from alcohol-related injuries on American college campuses, and each year, an estimated 70,000 students are victimized by date rape. He also pointed out that the initiative was launched months before the Princeton Review listed DePauw among the nation's "top party schools" (read more here). While the University questions the survey and its methodology, it remains committed to confronting problem drinking and related behaviors head on.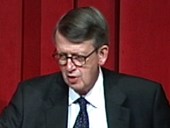 In closing, Dr. Bottoms invited the first-year students to get involved in the effort to build a responsible community.
[DOWNLOAD AUDIO: "Your Role" 362KB] "This really is your community, you're going to be here longer than the other students are gonna be here. And what I would hope, in the grand scheme, is that students would be interested enough in these discussions and forming covenants and being public about what we believe and what holds our community together, that in a grandiose way you could begin to build a tradition for decades of students who will follow you."
Learn more about the Coalition for a Responsible Community by clicking here. Read about Dr. Bottoms' March 2003 speech by clicking here. Bucknell University's newspaper wrote of DePauw's initiative. Read more here.
Back