Noted Organist Margaret McElwain Kemper '60 to Perform February 6
January 22, 2004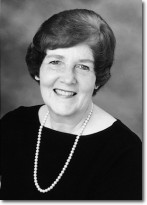 January 22, 2004, Greencastle, Ind. - Margaret McElwain Kemper, associate professor and coordinator of organ and church music studies at Northwestern University and a 1960 graduate of DePauw University, will perform an evening of organ music at DePauw's Performing Arts Center, Friday, February 6 at 7:30 p.m. The concert, in Kresge Auditorium, is free and open to the public.
Performing on the J. Stanford Smith concert organ, Kemper's program will include works by Clerambault, J.S. Bach, Kuchar, Franck, and a work by Van Denman Thompson, who served as dean of DePauw's School of Music from 1937-1956.
A native of Kenosha, Wisconsin, Kemper holds a Bachelor of Music degree from DePauw and a Master of Music degree from Northwestern University, both in organ performance, where she studied with Arthur Carkeek and Barrett Spach, respectively. Kemper also studied with André Marchal for two years in Paris on a Fulbright grant, and with Marie-Claire Alain and Anton Heiller at the Summer Academy for Organists in Haarlem,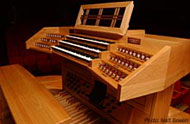 The Netherlands. "It is a great honor to be returning to campus to play one of the alumni recitals on the new Helmut Wolff organ. I know this wonderful instrument will be a source of joy for the DePauw community for many years to come -- for students, faculty and audiences alike," said Kemper.
A frequent recitalist and workshop presenter, Kemper was invited to play recitals at the Glinka Museum in Moscow, Russia and Holy Trinity Lutheran Cathedral in Warsaw, Poland in 2001. She also presented a master class at the Moscow State Tchaikovsky Conservatory. In August of 1998, she lead a delegation of organists to Prague, Budapest and Warsaw through a People to People Citizen Ambassador Program sponsorship. Kemper is also director of music and organist at Presbyterian Homes in Evanston where she plays for weekly services, directs a staff choir, and plans and administers a recital series. In September of 2001, she was appointed organist of the Kenilworth Union Church (Kenilworth, Illinois), after 23 years as organist of the Glencoe Union Church.
Active
both locally and nationally in the American Guild of Organists for many years, Kemper served as national president from 1994-1998, national secretary (1988-1994), region V councillor (1981-1986) and convener of the regional councillors on the national council. She is currently a member of the national committee on continuing professional education.
For more information about this concert or other upcoming School of Music events, call (765) 658-4379 or click here.
Back