Is Gen. Wesley Clark Out of Touch with Voters?, Prof. Ken Bode Asks in Op-Ed
January 23, 2004
Also: Gen. Wesley Clark at DePauw, 9/23/03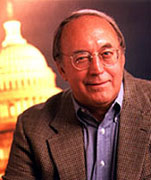 January 23, 2004, Greencastle, Ind. - Ken Bode, Eugene S. Pulliam Distinguished Professor of Journalism at DePauw University, offers an analysis of the presidential campaign of retired General Wesley Clark in today's edition of the Indianapolis Star. Bode writes, "Only days after his announcement, he packed the DePauw University fieldhouse with students, faculty and Putnam County residents, Republicans and Democrats alike. The general began his address with a description of his last duty post, Supreme Allied Commander of Europe. In charge of US and NATO forces from Norway to South Africa, he had a communications staff of 100 and a private airfield with a DC-9 and two Blackhawk helicopters. The perks included two armored Mercedes limousines and a team of chauffeurs. He lived in a 19th-century Belgian chateau, with five gardeners and a circular drive so wide, said Clark, 'I couldn't hit a 7-iron across it.' The audience was wowed by the elegance in which top military brass is accommodated."
However, Professor Bode notes, "it quickly became clear that, beyond foreign and military policy, Clark's grasp of the issues is tenuous," adding the general's message is "uninformed by experience, uninspired by passion." Bode asserts, "This is a problem for Clark and its source is easy to pinpoint. For his 30-plus Army years, he has lived in a parallel universe from most Americans. For example, when he returned to civilian life, Clark expressed surprise at how many ordinary citizens are not getting medical screenings for cholesterol or breast and colon cancer. Evidently, these are all routine at the rank of general.
Had he stayed awhile in Putnam County, he would have learned that many in his blue-collar audience are struggling so hard with rising health-care costs that they are not getting their teeth fixed, let alone having high-tech tests."
Bode, a veteran, award-winning journalist with CNN, NBC and PBS, concludes, "It may not always appear on the list of credentials required for the Oval Office, but most voters want a president who really understands the way they live. When George Bush the Father went to the supermarket and expressed surprise at the scanners at the cash register, it was a moment that registered indelibly in people's minds. Many decided that Bush had been riding in the back seat of government limousines for too long. Direct contact with ordinary voters is where good politicians find their passion. If Wesley Clark

cannot convince the people that he understands and shares the problems they face, he will not win. Nor should he."
You can access Ken Bode's complete essay at College News.org. Read a complete account of Wesley Clark's Timothy and Sharon Ubben Lecture at DePauw, including video and audio clips and photographs, by clicking here. Coverage of the event is embedded below.
Back