"Academic Standards Surge as DePauw Increases Minority Population," States Headline
January 23, 2004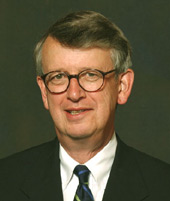 January 23, 2004, Greencastle, Ind. - "When Bob Bottoms assumed the presidency of DePauw University in 1986, one of his goals was to diversify what he describes as fundamentally an all-white school,'" begins an article posted on the Lumina Foundation's Web site. The story, titled "Academic standards surge as DePauw increases campus minority population" continues, "His timing was right, and his arguments were convincing. National demographics showed sharp increases in the Hispanic and African-American communities, but DePauw's minority population remained stagnant at one employee and 3 percent of the student body at the college in Greencastle, Indiana."
The writer notes that Dr. Bottoms' "rationale for change was that colleges have a responsibility to educate underrepresented groups and that schools benefit from diversification efforts as dramatically as do the underserved students.

'My feeling is that we don't learn very much from people just like ourselves,' says Bottoms, who admits some constituents feared diversity might translate into a quota system that could lower the school's academic standards. He assured them that it would not, and he's made good on his word. Eighteen years after announcing his goal in his inaugural address, Bottoms is pleased with DePauw's progress.
The story lists a number of achievements, including the fact that minorities now make up 15% of the student body while there are now 50 minorities on the faculty and staff; that first-generation college students make up a fifth of the campus community; that DePauw is now more selective than at any time in its history and has been ranked in U.S. News & World Report's top tier for four consecutive years.
"Paul Booth [seen in photo embracing Martin Luther King III during King's campus visit; read more here] is typical of the kind of student that DePauw wants to continue to attract," the Lumina Foundation article notes. "Booth, a senior from Cincinnati who has dual majors in political science and religious studies, leads a minority student organization on campus. He landed an internship with Secretary of Labor Elaine Chao after Chao visited campus to deliver a speech. 'I researched a lot of schools and heard a lot of talk about how they give you leadership opportunities, but DePauw really delivered,' says Booth. 'I call DePauw a 'mighty powerhouse' because it's small and selective, but its alums have had a huge impact in the world. As soon as I got here, I knew it was the right place for me.'"
The story, which notes the University's participation in the Posse program, points out that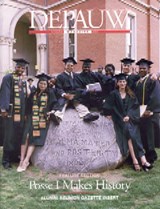 "DePauw's ability to offer generous scholarships, financial aid packages and work-study opportunities is a key to enrolling students of Booth's caliber. 'Some people ask, 'What do you get for your investment?' The answer is that you get a wonderfully diverse campus, so it's a sound educational expenditure,' says Bottoms."
Access the complete article by clicking here. Lumina Foundation for Education is a private, independent foundation. Its program mission is to expand access and success in postsecondary education.
(Posse photo on magazine cover by Marilyn E. Culler).
Back