John Brett '88 Named VP of Finance at Ispat Inland Inc.
January 26, 2004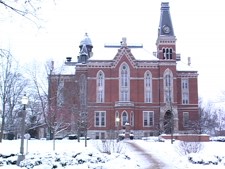 January 26, 2004, Greencastle, Ind. - John L. Brett, controller of Ispat Inland Inc. and a 1988 graduate of DePauw University, has been named the company's vice president, finance, and controller. The 38-year-old Brett joined the firm in 1988. Ispat Inland Inc. is a subsidiary of Ispat International N.V., one of the top 10 steel companies in the world, with integrated steelmaking facilities in six countries and annual shipments in 2002 in excess of 15 million tons.
A Yahoo! News story states that Brett "is a magna cum laude graduate of DePauw University, Greencastle, Indiana, with a major in economics and minors in psychology and sociology. He earned an M.B.A. in finance and accounting from the University of Chicago." You can read more by clicking here.
Back