Over Winter Term, Students "Learn Lessons That Cannot be Found in Any Book," Newspaper Writes
January 27, 2004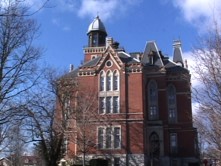 January 27, 2004, Greencastle, Ind. - "As the day begins, Lowell Huffman heads out to start his studies," starts a story in Greencastle's Banner-Graphic. "But Huffman, a DePauw University student, is not going to the library or to a classroom. Instead, he is headed to the Greencastle Police Department where he will learn lessons that cannot be found in any book. Huffman is serving an internship at the station as part of the Winter Term program offered at DePauw."
The article is written by Kiel Beehler, a DePauw sophomore, who, as it happens, is interning with the newspaper this month. "While many schools take extended periods of time off for the holiday season, DePauw tries to further advance its students' knowledge and their community relations by bringing the students back for Winter Term, which lasts for the month of January," Beehler writes, adding, "options include taking a class on campus,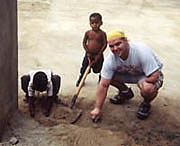 taking part in an internship in or out of town, traveling abroad with a study or service project and researching a topic of their choice in an independent study."
The story points out that Winter Term experiences this year include students who are interning on Capitol Hill, businesses and law firms around America, and even the Jerry Springer Show. Monique Larocque, director of Winter Term and assistant dean of academic affairs, tells the paper that one student is in Trianjin, China spending the month at an English training institute. Beehler adds, "Students are also allowed to take advantage of 11 study projects offered by the school, along with six service projects. Through these, the students are able to travel to places throughout North America, Europe, Asia and Africa."
Lowell Huffman, the sophomore profiled in the article, has his sights set on someday joining the FBI. Of his January internship, he says, "I think it's perfect... It allows you to submit yourself in something you want to do." Winter Terms, he continues, "give us a chance to get a real taste of the real world."
You can access the story in its entirety by clicking here. Read more about Winter Term here.
Back