Fifth Building in Rector Village Named Strasma Hall
January 28, 2004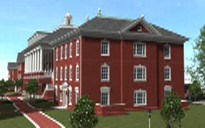 January 28, 2004, Greencastle, Ind. - With DePauw's Rector Village set to open its doors to students this weekend, a fifth suite-style residence hall in the Village has been named Strasma Hall. Norman E. Strasma '55, owner of several businesses in Kankakee, Illinois, and his wife, Janice, contributed funds for the hall that will feature a suite of four rooms on each of three floors. Rector is located on the site of the former Rector Hall, which was built in 1917 and damaged beyond repair in an April 7, 2002 fire (read more here and here). Two buildings in Rector Village will open for second semester (read more here); the remaining five will be completed in time for the fall semester.
Rector Village's design includes rooms that will be single occupancy, with students sharing common living and kitchen spaces on their respective floors. "We like the concept that Rector Village is a new type of university housing. It's very appropriate for DePauw and a good addition to the campus," Norm Strasma said. "We feel that DePauw has been an excellent educational institution for many years.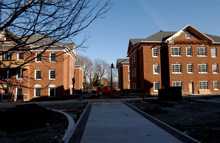 It has kept pace with the many changes in education and improved its physical facilities, and DePauw has improved its position over its peers."
The Strasma family has had a long, personal relationship with DePauw, Norm Strasma notes. His parents, Edward J. and Eula Clifton Strasma, were members of the Class of 1930. Other DePauw graduates in the family include a daughter, Karen Strasma Koenig '87; son-in-law, Mark R. Koenig '86; brother, Jan Strasma '66; nephew, Reid Strasma '90; and cousins John D. Strasma '53, Gretchen Strasma Rauschenberg '55 and James F. Strasma '71.
Norm Strasma is owner of Key Printing Service and newly elected president of the Kankakee Development Corporation. Previously, he was executive director of the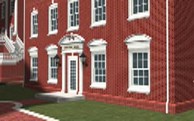 International Map Trade Association, founder and president of Keynet Online, owner and president of The Credit Bureau for Kankakee, publisher of the Inn Marketing Newsletter and president of Lowe Seed Company. He has been heavily involved in community organizations and served on several boards. Currently, he is a member of the Community Resource Center foundation board, member of the board of directors of Hospice of Kankakee Valley, and member of the finance committee and board of trustees of Asbury United Methodist Church.
Norm Strasma was a Rector Scholar at DePauw. He served as treasurer, alumni secretary and president of Delta Chi fraternity, and he was a member of the business staff of The DePauw student newspaper all four years and advertising manager one year. He also was a member of the honorary society, Alpha Delta Sigma.
Under the leadership of famed DePauw art professor Reid Winsey, Norm traveled to Europe with a student group. That trip stimulated his continuing interest in travel, and he has visited all seven continents and more than 80 countries. After graduation, he earned a M.B.A. degree at the Wharton Graduate School of Finance, University of Pennsylvania.
Four of the other buildings in Rector Village have been named: Reese Hall (read more here), Holmberg Hall (read more here), Warne Hall (read more here) and Leis Hall (read more here).
Back