DePauw Theatre to Present Frank and "Revolutionary" Spring's Awakening February 5-8
January 29, 2004

January 28, 2004, Greencastle, Ind. - DePauw Theatre opens its spring season with the notorious play, Spring's Awakening, on Thursday, February 5. Written in 1891 by German playwright Frank Wedekind, the play continues to challenge and enlighten audiences today. Original productions were shunned by conservative audiences for their frank, realistic messages about adolescence and sexuality, and the play -- which explores the grim consequences of repression and ignorance -- has been banned several times, most recently in 1963. The Thursday through Saturday (February 5-7) performances begin at 8 p.m.; a Sunday matinee will start at 1 p.m. The play is recommended for mature audiences only.
Throughout the past century, Spring's Awakening has received many successful stagings and praise from audiences and critics alike. "It is hardly necessary to point out the revolutionary significance of this extraordinary play," wrote Emma Goldman in The Social Significance of Modern Drama. "It speaks powerfully for itself, [the play] has done much to dispel the mist enveloping the paramount issue of sex in the education of the child," she continued. In 1917, the Globe wrote,
"No other work in literature so sympathetically interprets the storm and stress of youth at the age when it is torn between its desire and the dread of the unknown."
Ron Dye (seen at right), assistant professor of English and communication arts and sciences, is directing DePauw's production of Spring's Awakening. He chose to utilize a unique seating arrangement to situate audience members in close proximity to the stage. "We're doing it in a three quarter thrust style configuration. It's very much a chamber theatre style," Dye says. "I've seen several productions of this play and felt distanced by it. I wanted to see what it would be like in a more intimate setting," the director adds.
The play is also different from other DePauw Theatre productions due to its "summer stock" nature. Students have approximately one month to rehearse the show before opening night, as opposed to the typical full-semester preparation. This time crunch is typical in many professional theatres and provides the students with real-world experience. "It really puts into perspective how much work goes on overall,"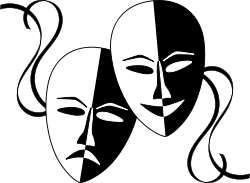 states freshman cast member Ashley Baxstrom. "Since time is so compacted the pressure is put on us to get everything done. You realize just how much goes into it."
The play contains adult situations and is not suitable for children. Tickets are $6 for adults and $3 for students and can be purchased or reserved through the DePauw University Performing Arts Center Box Office by e-mailing here or by calling (765) 658-4827.
For more information on DePauw Theatre productions, click here.
Back