Two Rector Village Townhomes Ready for Occupancy
January 30, 2004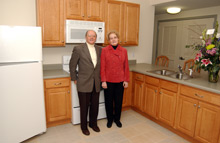 January 30, 2004, Greencastle, Ind. - A new chapter in DePauw University's history is being written as the first students move into Warne Hall and another, yet-to-be-named building in DePauw University's new Rector Village. As some of the first residents began unpacking their belongings and filling the closets of the townhomes, Jane (Leahy '54) and Richard A. Warne '54 of Indianapolis, whose generous gift made Warne Hall possible, toured the three-story brick residence hall which will house 24 students in private rooms and features common kitchen and living areas.
Rector Village, a complex of seven town-home style residence halls, is being constructed on the former site of Rector Hall, which was destroyed by fire on April 7, 2002. While two buildings are now ready for occupancy, as planned, work continues on the remaining five structures which will open their doors in time for the fall semester. A total of 48 students will move in to the two new buildings before the weekend is over.
"The new residents of Rector Village began checking in on Wednesday, and, to a one, the response has been incredibly enthusiastic," says Dorian Shager, director of housing and assistant dean of students at DePauw. "it's really turned out beautifully. The architecture of the buildings marries nicely
with neighboring Mason and Lucy Rowland Halls, and students are very happy with their rooms and the amenities they're provided. I'm hearing a lot of 'Wow's,'" Shager adds.
Another story on the opening of Rector Village can be accessed by clicking here. Five of the seven buildings in Rector Village have been named. Read about that clicking here. Learn more about the Warnes and their gift by clicking here.
Back