Report: 9/11 Panel Co-Chaired by Lee Hamilton '52 May Subpoena White House
February 1, 2004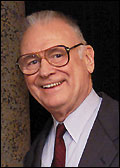 February 1, 2004, Greencastle, Ind. - The independent commission that was created to look into the circumstances that led to, and the immediate response following, the tragedies of September 11, 2001, may subpoena the White House to obtain notes that the Bush administration has refused to turn over. "We're having discussions on this almost hourly or at least daily," Lee Hamilton, vice chairman of the commission, a former Democratic congressman from Indiana, and a 1952 graduate of DePauw University, is quoted in the People's Daily of China. "We retain all of our rights to gain the access we need... This is a priority item for us to resolve, and we are working to resolve it," he said.
The bipartisan commission held two days of hearings last week, at which it was "revealed US authorities had numerous opportunities to stop the hijackers, including many face-to-face encounter," another story, distributed by the Associated Press, states. "The missteps included miscommunications about al-Qaida operatives dating back to the mid-1990s, hijackers who were allowed to repeatedly enter the United States even with false or the wrong visa papers, and missed chances to stop suspects at airport security checkpoints despite warning signs."
"We were asleep. Opportunities were lost," says former New Jersey Gov. Thomas Kean, a Republican who co-chairs the commission with Hamilton. Lee Hamilton tells the AP, "The question is, can you take an institution like the FBI and change its culture so it is focused on prevention of acts of t
errorism rather than prosecution of criminal acts. That's a major question in homeland security."
The commission is facing a May 27 deadline to complete its work, but has been lobbying for two additional months to complete interviews and gain access to files.
You can read the story in the Chinese newspaper by clicking here. The AP story is accessible here.
Back